The 3 R's 4 Success
By Bill Powers
Tweet


@MrPowersCMS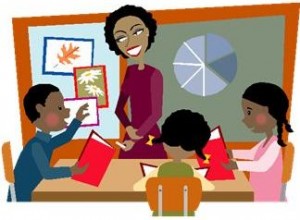 I still believe it boils down to GREAT teachers that instill the 3 R's – RELEVANCE, RIGOR, and RELATIONSHIPS in everyday practice.
What does this mean?
To me it means:
Relevance = why do I need to learn/understand this? Not just because it's what's next in the curriculum or not because it is one of your favorite things to teach, or because it is on the MAP test. Getting to the heart of the students and connecting it to them and their everyday life helps make the subject matter relevant. Give the learning relevance. For example, essays for an authentic audience such as a blog and then sending the link out to your PLN to have them comment (not just to the teacher reading it) on the students writing. Having the students create, think, explore, or design a product using the technology available to them and that they use regularly to show mastery. Allow them to choose how they create or design- video, prezi, podcast, etc. Don't tell them ALL it has to be a tri-fold poster board, or a PP, or an essay. Allow them to choose. There are several free outlets available for students to produce/create these products. In fact they know more about these presentation tools than we do. Remember they are Digital Natives and know more about these tools than many of us.
Rigor = Addressing the needs of ALL students and pushing them beyond their current level. Stretching and pushing them and allowing them to Learn from failing. Rigor in the classroom is NOT worksheets. It is NOT do all the odd problems and check your work in the back. It is NOT having the students read the section and answer the questions at the end. It is NOT the teacher being the only person delivering the content. I think you get the point. Rigor is allowing the students to learn by creating, producing, and researching multiple sources. NOT just filling in the blanks, coloring in a bubble, or regurgitating facts. Critical Thinking, Collaboration, and Communication and NOT sit and get.
Relationships = The quote by President Roosevelt "No one cares how much you know, until they know how much you care" still applies today with children and adults. When's the last time you asked a colleague or student "how are you doing?" and really meant it? Do you have enough trust in one another to visit each others classrooms to observe each other? Do you know ALL of your students? Do you make it a point to speak to every student in your room every day? Do you smile at them even on a bad day? Your worst day may be the best day for some students. Make connections. . . even with the _________'s of the classroom. (fill in the blank with the name of the student/adult that pushes your buttons)
Here are some links to tie in with Relevance, Rigor, and Relationships.
First, here is a 1:50 video from Todd Whitaker @ToddWhitaker
If it is blocked on You Tube go to You Tube For Schools and search What Great Teachers Do Differently.
1. Are We Teaching To The Modern Definition of Literacy? by @bhsprincipal
Please watch this 5:31 video. Are we meeting this criteria for Literacy? Are we old or bold? We need to be bold as educators and as a building. Up for the challenge? I am!!
2. A Commitment to Digital Learning by @NMHS_Principal
Several great and easy examples of using tech in class to engage learners.
3. All Kids Can SUCCEED – Be The "1″ by @northeagles
It starts with 1 caring adult who shows genuine interest in a child and believes wholeheartedly that they can, and will SUCCEED.  This adult must then commit to doing "whatever it takes" to help that child succeed. Are you the 1?
4. The Stigma of Low Expectations by @PeterMDeWitt
"We underestimate students when they fall short of expectations because they don't understand the school game and we determine that they lack motivation. " Carol Ann Tomlinson
Are you Teaching Up to ALL students?
5. 10 Ways to Encourage Students to Take Responsibility for Their Learning . . . by @whatedsaid
Talk less, ask for feedback, focus on learning and not work, encourage goal setting and reflection, etc.
As always, you comments and/or questions are appreciated. Send via email, post comments here, or tweet me.
Bill @MrPowersCMS
About the author



Bill Powers is principal of Cherokee Middle School in Springfield, Missouri. His blog is cmslearning1. Follow Bill on Twitter: @MrPowersCMS
Also by Bill Powers:
PPLN – Powerful Personal Learning Network 24/7/365
Having the Courage to Listen and Grow – Reflections of a School Principal
Post your comments below!