Teaching Is…
By Bill Page
Bill Page is the author of At-Risk Students – Feeling Their Pain, Understanding Their Defensive Ploys
Editor's note: This article appeared in an earlier issue of the Gazette. Its message is timeless, so we proudly share it again.
An intriguing analysis of the teaching-learning process, wherein the reciprocal process is neither "teaching" nor "learning," especially in the way many educators might define either of the terms.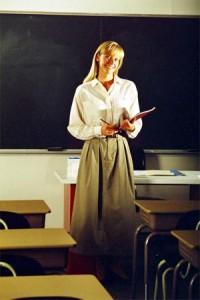 My favorite web site, Teachers.Net, recently asked site visitors to respond to the open-ended stimulus, "Teaching is…" When I reviewed others' responses, they ranged from the inevitable, "Teaching is love" to "Teaching is why I have two part time jobs" to "Teaching is my passion." My own contribution was:
"Teaching is taking credit for some one else's learning. If a kid learned something, and I caused that learning, I would say, "I taught him. Teaching is relationship between teacher and learner. The learner gets the benefit of the learning, while the teacher gets credit for the teaching."
I had never attempted previously to define teaching. Why should I concern myself with the definition, after all, everybody
knows
what teaching is? But, somehow it bothered me that I had not previously attempted to define teaching. As I reflected on my beliefs about teaching; as I analyzed, considered, examined, and pondered, I came up with the following, "Teaching is…." comments. And, since I could not separate teaching from learning, I have also came up with "Learning is…." thoughts.
Teaching is…..
Teaching is I. Teaching is what I am. What we learn is what we experience. I cannot say, "Now I am teaching; now I am not." Whatever I am doing or not doing is teaching; kids are experiencing me. If I roll my eyes and sigh, give a disgusted look, or if I smile as a response, that is what my students are learning. If I say, "I will not begin until everyone is ready." or I write on the board, that is what they are learning.
My students learn just as much from me when I walk out in the middle of their class as they would learn if I stayed. Of course, what they will learn is something quite different. What they learn is that I would rather be out than in, or if they post a sentry at the door, they won't get caught out of their seats when I return. They are learning how the class behaves when I am out of the room. They are learning who the "snitches" and "goody, goodies" are. On my return, they will learn how I act, when I am upset; or what I do about misbehavior that occurs in my absence. So long as I am in their presence or so long as I am responsible for them, they are "experiencing me." What I do or fail to do is what they are learning.
Teaching is introducing, providing and mediating experiences. Teaching is helping students make sense out of their experiences and helping them to harmonize, analyze, synthesize, discuss, compare, contrast, and discover personal meaning in the experiences. If the experiences I provide are not meaningful; if they do not make sense; or if they are not age, interest or time appropriate, no "learning" will take place. (Except that he/she might learn that he/she is confused or bored, and perhaps how he/she behaves when feeling confused or bored.)
Teaching is a communication procedure. It is my responsibility to communicate history to my history students. If they fail to learn history, it is I who have failed, not they. If half of the class fails, then I have failed to adequately communicate with that half. As a professional teacher, I have provided experiences by which they learn the material. If those experiences are not helpful, it is my obligation to find new, more appropriate experiences. If I go to the doctor with the flu and he gives me penicillin and it doesn't work, either he mis-diagnosed or he mis-prescribed, and he certainly would not label me a "bad patient." or tell my Mother on me.
If a TV commercial fails to sell the advertised product, sponsors don't say, "It's a great commercial. It's just stupid people who watch the program, we will have to upgrade our listeners." Or "It's a clever commercial, it is just over their heads, so we'll have to do six commercials for 'readiness.'" What they do is fire the commercial writers. You don't fire (or flunk) the audience! It is the writers who have the obligation of the communication.
Teaching is taking responsibility for kids' learning. Our job is to teach the kids we have; not those we used to have; not those we would like to have; not those who are like us when we were in school; not the kids who have parental support; the kids we have now–all of them. Our job is not to tell that they won't learn, or haven't learned. It's not to tell why they didn't learn or what their problems are. It is to teach them. It is teachers who pass or fail not the kids.
Teaching is the act of being one's self. It is one's state of being, of existing as a total human being, one who becomes a part of the lives and experiences of students. It is being an authentic person whose holistic, identifying, knowable and observable characteristics are in interaction with other peoples lives. Teaching is modeling, behaving, imitating, following, and living as perceived or acted upon by all those in mutual, reciprocal relationships.
Conversely:
Teaching is not something anyone does to someone else. It is not a matter of subject knowledge, teaching strategies, pedagogy, lesson plans or presenting. By my definition, a person with teaching qualification and certification, who knows and uses such practices, walks and talks as a teacher, is not a teacher, unless or until his or her "students" perceive worthiness, importance, or personal meaning in the experiences resulting as part of the encounter and interaction with that person. [continued on page 2]