Stop Teaching! Let Kids Teach Themselves – Third in the "Two-Word" Series
By Bill Page
Third article of the "Two-Word" series of teaching strategies by Bill Page
Hello Bill, I implemented your January and February "two-word" teaching techniques. I am using both ideas, daily. I hope you have another one; I use 'em and my kids love 'em. HLR
Dear HL: I do, indeed, have another"two-worder".  It's a simple classroom strategy; the best I've ever used for both my kids and me.  And, it keeps improving with use. Try it. You'll like it.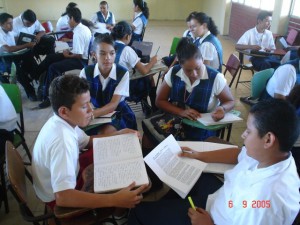 Two-Words That Can Refresh and Renew Every Classroom
1.  When a teacher wrote asking for a quickie "solution" to her need for a teaching refresher, I suggested that the number one problem in classroom teaching effectiveness at all levels and in all subjects is "lack of student dialogue" and recommended: "Shut Up and Teach" an article that gives two profound words, guaranteed to increase the efficacy of anyone's teaching.
2.  Another teacher who said she found the "Shut Up and Teach" article to be "terrific, the kids love it" asked for another simple effective refresher idea.  My February article; "So Shush-up, Again! Kids Need Time to Think," seemed to be perfect.  Meanwhile, I wrote about another great idea that fit the request for a simple, effective, teaching strategy, titled: "So, Shush Up Again! Kids Need Time to Think".
3. This March's article (below) in the two-word series is, "Quit Teaching, Kids Can Teach Themselves!"  This is a strategy so powerful that there is rarely a day I haven't used it multiple times.  It is so great, when I become Czar of Education, I will require its use, daily in every class.
4. The "Two-Word Strategy Series" continues in coming issues. April's  Two-Word Article is: "The Next Best Thing to Reality in the Classroom".  Don't miss April's two-words that make reality a reality in everyone's classroom.

If I were required to follow traditional bureaucratic procedures and permitted only one teaching strategy outside the constrained routine, I would implement the following two-word technique.
Quit Teaching, Kids Can Teach Themselves!
A well-known aphorism teachers understand and love is: "The best way to learn something is to teach it.  We all know that's true for ourselves, but it is also true of our students.  I believe "teaching it" to be the best teaching gimmick I know. And, indubitably, there is one practical way of "teaching it" in every classroom every day.  It is the singular best teaching for students to use—a technique that has-it-all and does-it-all.
If the powers-that-be knew how simple, effective, and efficacious the technique is, they would make it mandatory. A technique this powerful couldn't be new to you.  You know it, but do you use it?  When I tell you the two-word strategy, all you have to do is recall your own education and think of times you have used it. Then get ready to revive it and begin using it, now. Ready?
The "Pair-Share" Strategy
Known by names such as, Study Buddy, Pairing, and Learning Partners, the Pair-Share technique is absolutely, positively miraculous—students paired and encouraged to talk right in the middle of their lessons. Instead of the teacher talking,everyone, even the bottom kids, can talk using the pair-share strategy all at once with equal interest, satisfaction, and success.
Instead of one teacher talking while 26 students listening passively,maybe, there can be 13 teaching and13 actively listening and then taking turns in roles as teachers-learners.Any students taking inappropriate advantage of the idea can be "paired with the teacher" until they can be shown the value of the process.I sometimes have two or three as my partners.
It Works for Everyone in Class
Sharing on a one-to-one basis is an effective way to learn, practice, reinforce, memorize, consider, ponder, compare, clarify, and contrast what is going on in each partner's head.  And there is no better way to use speaking, listening, discussing, reflecting, thinking, and getting immediate feedback than relating and responding as partners in the pairing method.  All students, the shy and unprepared along with all others, can use the ten-second to five-minute opportunity to share ideas and exchange thoughts, reflect,question, discuss, and consider information before the prospect of being called on or as a clarification and review technique.
Just Google It and Do it
Although the Pair-Share Strategy was an integral part of the learning done in the old one-room country schools, such as I attended, it has been around, somewhat formally, for at least twenty-five years and has been written about in hundreds of books. Teachers just need a reminder of how amazing and effective it is. [continued on page 2]