At-Risk Kids – Gloom, Despair, Misery, and Pain
By Bill Page
For most at-risk kids the second semester is usually a disaster; it need not be.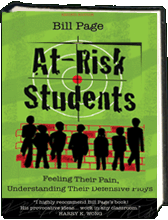 "Gloom, Despair, Misery, and Pain" moaned the groaning bunch of Hillbillies on the old HEE-HAW Show.  They, with some hound dogs, were slumped down woefully wailing the theme song regaling their plight.  I thought; "What an ideal theme song for the at-risk kids as this year sadly continues with no relief for them in sight and with the inevitable slippery slide on the downward spiral toward failing for the year.
Three Million Classrooms in America
Fifteen million kids don't flunk each year; one kid flunks, then another, and another, and another, then another flunks and another. Each of the fifteen million flunks; and each one suffers the pain, humiliation, and demoralization that invariably accompany failure.  The student's immediate family, extended family, friends, classmates, neighbors, and acquaintances, too, are painfully aware of his/her failure.   So, in addition to his/her own lament and self-doubt, the kid,disgraced by the being dumb label.  He/she needs desperately to save face with people at all levels in the only ways he/she knows how.  Bravado, swagger, hostility, retaliation, and defensive ploys are essential.
Flunking: A death sentence for many
Most people have never seriously contemplated what it might be like to fail a year of school?  I'm not talking about failing a couple tests or getting an F on your report card during the year.  I'm talking about"FLUNKING!" (that's a kid's term; schools never use it) about a whole year lost, about summer school, about humiliation as classmates move on, about  parental condemnation, about the pity expressed by other family members, about unspoken feelings, about painfully acknowledging what grade "you'll be in next year,"  about non-verbal reactions, about silence from people who "know,"  about muffling sobs as you lie awake, about loss of any remaining hope or luck, about how difficult it is to act like it doesn't matter or doesn't hurt, about remorse for not having tried harder, about embarrassment, about inadequacy, incompetence, and feelings of downright stupidity.
Kids May Never Survive Flunking
Flunking for the year sends shock waves through every dimension of the kid's existence and will continue to attract negative attention for years.   When people ask "What grade are you in, your answer will be followed by, "How old are you?Even in the unlikelihood he/she learns to disregard the public stigma, the self-doubt, emotions, and painful memories will continue through life.  For most kids the hurt and anger will never go away especially if the failure results in retention.  In a survey by the National Association of Psychologists, a majority of elementary students rated retention ahead of loss of one's parents and going blind.
Kids Aren't Helped by Being Told They're Dumb
Is flunking students, dumbing down courses, or giving undeserved grades really necessary?  Does a kid profit from being told he is dumb.  Does his/her attitude and habits improve as a result? Do the class members become more helpful?   Are retaining kids in grade,promoting failing students on to advanced grades, or sending them to a remedial dummy program the only choices?  What do you suppose the odds are of changing a student's life for the better by flunking him/her. The alternative to failing kids is teaching them.  They don't need an F; they need to be taught—and, failure won't help.
Failure Is Child Abuse
The cruel act of flunking kids constitutes child abuse as bad as most of the well-publicized child abuses.   All child abuse is horrific because they are especially dependent, innocent, and vulnerable.  It is far too easy to blame the student for his/her failure by ignoring that he/she is a captive in the class, is taught as part of a grade-level group of diverse learners, on a pre-set schedule.  The antiquated 150 year bureaucratic tradition assures the unnecessary failure of fifteen million kids, whose failure was pre-ordained and could have been predicted.  If you give a grade-level spelling test or a math quiz, tomorrow, you can be sure of have a few F's, a few A's and the other grades distributed between.  And so it is with report card grades—unless the teacher takes part of the conventional age-grade curriculum grading as a personal, individual responsibility.
Plan Now for Final Grades
For a "quick start" on preventing F's between now and May, consider the following ideas:
1.      Offer (more) do overs, second chances, reminders, and friendly reminders.
2.      Give the benefit of any questions or doubts—offer alternative routes
3.      Use the pair-share, buddy system for individual help
4.      Use "half" tests more often, rather than the whole test at once.
5.      Provide alternative, choice, bonus, and "mark-out" test questions.
6.      Accept weaknesses; let kids focus on learning the part they can handle without being penalized by their deficiencies.
7.      Read an article on differentiation options and use classroom research.
8.      Suspend some rules and declare a few weeks of experiments on learning.
9.      Have a class meeting to discuss ways of reducing student non-participation
10.  It's not too late to plan a new recovery with new ideas and procedures.
11.  Ease-up on grading homework, conduct, and non-learning activities.
12.  Learn more about the problem kids and their lives and problems; offer to help.
Conclusion
Summon your deepest emotions, rally your love of kids, and invoke your sympathy for the underdog, who may be guilty only of choosing the wrong parents and zip code.
"Walk a mile in their moccasins" is a familiar aphorism for empathy, but the reminder that you have to take off your shoes in order to do that makes it more meaningful. I invite you to take off your shoes and feel their pain, embarrassment, and futility.
With joy in sharing,
Bill Page
Comments and questions are welcome and are answered: BillPage@bellsouth.net