A New Year Provides a Fresh Start: Don't Waste it!
By Bill Page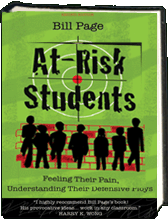 Teachers are on a never-ending journey. There is always more to learn and more that can be done. Teachers never "arrive"; they are always in the process of "becoming" better, more experienced, and more accomplished. No matter how good, how effective, or how talented teachers may be, they constantly seek to become more proficient and effective; and most of all a new bunch of kids who need their help. A unique feature of education that sets it apart from any other profession is having the opportunity to start fresh each school year with new students, a clean slate, new choices, and a fresh opportunity for improvement.
The first days of school are crucial for getting the school year off to a great start. Harry and Rosemary Wong sold millions of books about The First days of School because everyone knows the start will determine how the year will go. Getting the new school year off to a great start is kind of like making a good first impression—you get only one chance—there are no "do-overs". And, the medium is the message: you don't need to tell the kids what your class will be like. Your initial encounters and interaction will communicate more about you, your beliefs, and your teaching than any verbal message you can give.
My new year never started the same as the previous one simply because I learned more efficacious ways to increase achievement, meet my needs as a teacher, and the kids' needs as learners. Following are important considerations for getting the new year off to a great start and making it better and more satisfying as the year progresses.
1. Hands-On-Learning Is Indisputable
The greatest failure in education is the failure to use proven, unquestioned research. Three factors are clearly in that category: 1) absence of dialog in classrooms, 2) absence of student input into classroom decisions, and 3) absence of student involvement (Note: participation can be mandated; involvement cannot.) All three failures can be reduced, reversed, and eliminated by proven "Hands-On Activities". These participatory strategies involve learning laws, not theories. It is foolhardy not to use them as primary teaching techniques. For what to do and how to do it: Google, Hands-On Learning; I just did and found 65 million responses.
What teachers do in the classroom — such as conducting hands-on learning activities and emphasizing higher-order thinking skills—matters more to student achievement than do other measures of teacher quality, such as professional development and years of experience, a study finds. Conducted by the Educational Testing Service and financed by the Milken Family Foundation,