Four Common Ways to Manage Behavior
By Betsy Weigle
Students learn more effectively when you get classroom management right; kids benefit, and teaching won't wear you out. There are four different models used by teachers.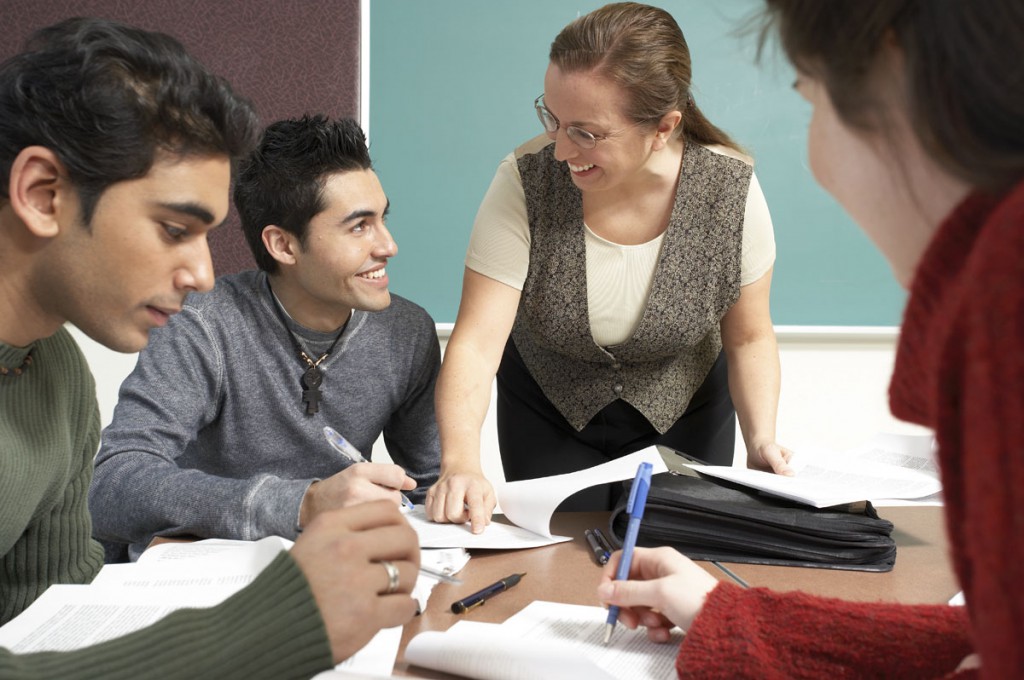 A teacher can approach classroom management in four different ways to manage behavior – one that creates a learning environment and three that squash it.
1.The "I give up" model
2. The bribery model
3. The command-and-control model
4. The classroom-community model
The "I Give Up" Model
A teacher is responsible for the behavior of his students at all times they are in school. Of course, this applies in the teachers' own classroom, but it also means responsibility for behavior:
In library
In art
In music
On the playground
When lining up
On field trips
In the lunch room
…everywhere
This does not mean that you have to be everywhere at once, or never take a break, or never trust another adult. But it does mean that an effective teacher understands that poor behavior anywhere can plant the seeds of discontent that will sprout into problems with classroom management in her own room if left to grow unchecked.
So how does "not giving up" look in practice?
It looks like a teacher managing transitions by leading her students into the lunch room, or the art room, or wherever and calmly introducing them to the adult in charge and setting expectations for behavior.
It looks like a teacher showing up a few minutes early to pick her kids up in order to observe their behavior when they are not under her direct control.
And, finally, it looks like a teacher dealing with behavior issues no matter where they occur when she gets back to her room…sometimes by discussion, sometimes by discipline, sometimes by reading a book with a point.
The Bribery Model
Bribery has a long and strong tradition when it comes to child rearing. What parent hasn't moderated an inconvenient tantrum with a treat, even against their better judgment?
Unfortunately, it also has a long history in classroom management. But make no mistake: buying your students' good behavior with awards of food, trinkets, certificates, pizza parties or imaginary honors will not create a community of learners. Ultimately, it will just drain your wallet and leave your students looking for the next handout.
The Command-and-Control Model
If you've ever seen "command and control" in action, you know it can produce quiet classrooms…that explode when the disciplinarian teacher leaves for a day and the substitute teacher arrives.
It is harder to build a community among your children, but if their behavior is controlled only by external force, rather than by internal desire, they will not exhibit self-control unless they are being squashed under a thumb. They will learn to be quiet, to do their classroom jobs efficiently, and to follow the rules…but like toddlers in a playpen, they'll be plotting their escape all the while.
The Classroom Community Model
"Community" is not just a fuzzy, feel-good buzzword, achieved by classroom meetings and high-five's. It is an extended family of young people who learn to care about each other, learn to work together…and as a result, learn better than they otherwise could.
Community ties it all together through respect, responsibility and values.
It is harder to pull off than other approaches because it takes constant work for nine straight months, but it's this kind of classroom management that gives the kids what they need to be as individually successful as they deserve.
———————-
About the Author:
Betsy Weigle is the creator and founder of http://www.classroom-teacher-resources.com/ the detailed information source for new elementary school teachers. For detailed information on the basics of student performance management, visit our section on successful classroom management at http://www.classroom-teacher-resources.com/classroom-management-101-t2.html
Betsy is a National Board Certified teacher, curriculum developer in math, science and social studies and advocate for learning-challenged children. A travel enthusiast and kayaker, she lives in the Northwest.
"It's all about the kids!"
Article Source: http://EzineArticles.com/?expert=Betsy_Weigle