Professional Learning: Making it Personal
By Bethany Hill
Tweet

@bethhill2829
We must be the lead learners. We must be learning constantly.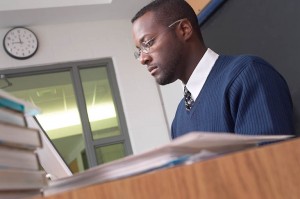 Every profession requires training in order to learn how to be effective in the position. In our profession of education, our training began with college. We received our degrees in a particular focus area. Once licensed, in order to stay current and keep our license, we are required to complete a certain number of hours of professional development. Most of these hours are offered in the summer while teachers are "off" (yes, I am giggling at the thought of not working in the summer!) and can attend full day sessions on a particular topic. When school begins, we search our notes and try to remember what it was we were trained in and how we begin to implement the learning that occurred weeks back.
After 17 years of service in education, I have come to an understanding regarding professional development: If educators wait for training to be offered, children are waiting to be served in classrooms. Kids cannot afford for us to wait on the right training or professional development to come to us. We must go out and find what they need; we must seek the information we need in order to be the best we can be. It is time for educators to take charge of their own learning. It is time to get PERSONAL.
I have always been an avid reader and researcher. I thrive off of searching for the latest information and best practices in education. My family calls me a "nerd" and I am perfectly fine with that! Over the last year I have been honored to grow a Personal Learning Network (PLN) filled with thousands of educators, business leaders, organizations, and writers who have challenged my thinking and broadened my perspective. The connections I have made have pushed me to try new things, dream bigger, and be more than I ever imagined I could be.
Personalizing my learning has empowered me beyond measure, and experiencing this has allowed me to see that we should all be more purposeful about our learning. Waiting for a training in the summer is no longer acceptable. We are professionals and we need to be regularly seeking knowledge which will support ourselves, our profession, our school, and most of all, our students. Teachers are some of the busiest people I know. We plan for many children who are all learning at different levels and in different ways. If we do not stay current and continually seek knowledge to help us better reach individuals in our schools, then we are failing our profession. We must be the lead learners. We must be learning constantly.
The following suggestions are a few ways I have personalized my own learning over the last year. These actions have helped me grow as an educator and as a person. I hope they can help you do the same.
Connect with the Purpose of Building a Network
Develop a personal learning network of people in your circle as well as others outside of your district, state, and even country. Connect with others via Twitter, Google+, Facebook, LinkedIn, etc. When you begin to connect you will be amazed at the plethora of resources that will be shared with you. Articles, videos, websites, books…all at your fingertips through your smartphone. Grow your network today by getting connected. This takes time, but it is time well spent as you will begin to receive uplifting and informative blurbs through your social media feeds. One article or blog may be the answer you have been looking for to help a student. 15 minutes of your time to read an article could change the whole dynamic of your classroom.
Reflect
Reflective practice is certainly a best practice in our profession. Purposeful reflection is about being honest with yourself regarding where you are and where you want to be. It is about looking within, looking outside, and looking ahead. Reflection can have a spiritual side as well, if you choose to include it. Ask yourself these questions:
Where do I see myself in 5 years?
What is holding me back?
What have I learned over the last ___ that has made me better?
What do I still need to learn?
Who is counting on me to learn, and what do they need from me?
What do I need to learn for my own inspiration and to develop a passion?
Reflect on these questions and let the answers guide you to what you [continue to page 2]