How To Make a Good First Impression – Advice for Subs
By Barbara Pressman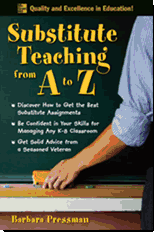 How Can I Make a Good First Impression?
Dear Barbara,
I have been subbing for about two months now. It seems like some days just go smoothly, and others are a disaster. It always begins that way too!
When I feel confident, the classes seem to respond to me positively.
How can I be sure that my first impression is the one that I want?
Juliana in Madison, NJ
Dear Juliana,
Your day begins before the students walk in. Give yourself plenty of time to become familiar with the day's schedule, routines, and reward system. Read the plans two or three times. Look at the textbooks and become familiar with the subject matter. Have everything you'll need piled up on the desk in the order that you'll present them. Put your name and date on the board.
Now, the bell rings. Students file into the room. You've done your prep work. You are ready to greet individuals at the door, with a confident smile and pleasant "good morning". Once most students are seated, be sure that they know what to do for "before school" work, or a "bell ringer".
Once the class period begins, it's time to introduce yourself. A simple statement of your name and some very brief background information is crucial. Discuss the plan for the day. For middle and high school, give the assignment for the period. Explain that you will leave a detailed note for the teacher, giving names for excellent behavior, and for any uncooperative students. Go over the reward system, and use it consistently (table points, marbles in jar, reward tickets). Show students that you have detention slips, and use one immediately if misbehavior occurs.
Begin working now, circulate the room, offering help when needed. Don't sit down and watch. You will look lazy and uninterested.
If you follow this plan, you will have a productive and successful day. Your first impression will be lasting one. Principals will call you back over and over again!
———–
Click here for information about the book, Substitute Teaching From A – Z by Barbara Pressman