Lesson Pacing for Subsitute Teachers
By Barbara Pressman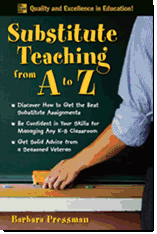 A substitute teacher asks the author of Substitute Teaching from A-Z how to pace lessons correctly.
Dear Barbara,
Your advice has been quite helpful to me in my daily teaching. There is one problem that I would like some help with. When I sub, I try to follow the lesson plans as closely as possible. I want to be thorough, and maybe that's why I never finish the lessons in the allotted time. I feel like I move too slowly. How can I judge my pacing to finish on time, and still cover all the material?
Tricia in Edison, NJ
Dear Tricia,
Experienced teachers learn to pace their lessons to meet the needs of their students. The regular teacher has an innate knowledge of the way his/her class learns. He/She can tell when students are loosing interest, and when the objective of the lesson is met. As a sub, you have to "guess". It's a lot harder!
Students have a way of getting the sub off track. They may ask lots of questions or make comments that will redirect you. Be aware of irrelevant comments. Tell the student that you can discuss that issue later, but right now, you must stay on subject.
If your students seem to be loosing interest, move on. Proceed to the next step of the lesson, or start with the independent practice. The worse thing you can do is to loose your class. You need to keep a good, swift pace, using high order questions and student participation to make your lesson vital and interesting. Try to develop a sense of good, appropriate lesson flow. Practice your craft, and I'm sure you'll master the art of pacing.
Barbara