How Can I Improve? Advice for Substitute Teachers
By Barbara Pressman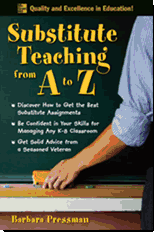 How Can I Improve?
Dear Barbara,
I know that I can improve my teaching skills, but I'm really not sure how to go about it. Eventually I want to go back to college and obtain my education degree. For financial reasons, I can't do that right now.
There are a few experienced teachers that I've seen while I've been subbing, and they look miserable! They're always angry and they act "burnt out." I never want to be like that. I've seen others who are happy and positive. Students love them. I want to get better as time goes on, not worse.
Please give me some suggestions for improvement.
*Courtney in Nevada
Dear Courtney,
It's very admirable that you want to improve yourself. That tells me that you will be a fine teacher someday, and you're probably a great sub already!
You're right, as time passes, some teachers develop a negative approach to teaching. They look unhappy, and so do their students. By observing both good and bad teachers, you'll start to understand what works and what doesn't.
You'll find that your skills will improve greatly by subbing. When something really works in a classroom  (a great teaching moment), repeat it until it becomes a natural part of your repertoire. Observe how the best classrooms are organized. Then borrow those great ideas and use them to make yourself a better teacher.
Find a teacher you admire and ask if you might observe him or her when you have a free period. Observe as many teachers as possible. Each has a unique teaching style.
Read books on teaching. You will always get inspiration and confidence from good reading materials.
Most of all, be yourself and be the very best that you can be. The more effort you put into subbing, the more you will get back in terms of fulfillment and personal satisfaction.
Barbara
Order Substitute Teaching from A – Z by Barbara Pressman