Three Ways to Provide Support and Scaffolding to Struggling Learners
By Barbara Blackburn
Tweet

From Barbara Blackburn's book Motivating Struggling Learners: 10 Ways to Build Student Success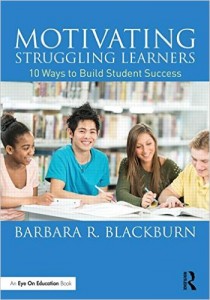 Do you have students who struggle in your classroom? One of the key aspects of instruction for struggling learners is the support and scaffolding we provide. It's important to realize that support should be used at an appropriate level through the learning process. At the beginning of new learning, more support is needed. However, as the learning continues, we want students to become more independent in their learning. This is called gradual release.
One way to think about scaffolding is with a diamond, or rhombus. It starts with me (meaning the teacher) at the top. You begin by modeling a lesson. Next, we go to us on the two side points of the rhombus. There are two parts of this. On the left are the teacher and the students (us) following guided practice. The right point on the rhombus is guided practice of us, meaning students working with partners or in small groups. Finally, we go to the bottom point, which is where the student (you) does the work independently.
How do you decide when to move a student through the various stages of gradual release? I wish I could give you a set formula, but there isn't one. Sometimes students need to see you model something once; other students may need multiple explanations and models. The same is true for the guided practice. Be sure you are observing their work and using formative assessment strategies to help you know when they are ready to work on their own.
Let's look at three specific strategies of effective support and scaffolding.
Structured
First, effective support is structured. There is a plan to monitor student learning and provide extra help. One of the teachers I worked with told me, "I don't need to plan. When students need extra help, I'll know it." I find that not to be true. Prior to any instruction, we should consider possible stumbling blocks for students. When might they be confused? Is there prior knowledge they may lack? Or, is this something totally new that will need strong scaffolding?
For example, even if you know they will need visual support or chunking, don't just take that for granted. Plan how you will provide visuals and how you will chunk the information.
Provides for Differentiation
Good support also provides for some differentiation. Now, that doesn't mean I think you need to provide 32 different scaffolding activities for 32 different students. There are times that an individual student needs individual scaffolding. But for many of our struggling learners, they need similar help, so you can provide ways to help them within your normal lesson.
For example, vocabulary is a huge struggle for students. No matter what you teach, students are expected to learn specialized vocabulary for your subject. And because words have multiple meaning in different subjects, it can be confusing.
One way to provide support with vocabulary is to create personalized dictionaries. Give each student a file folder. If you'd like, have them decorate the front cover with pictures and words related to the topic or story you are reading. As you teach a lesson, ask them to write the key vocabulary on post-it notes, and place the stickies in their folders in alphabetical order.
Throughout the lesson, they add to their folders. For example, if they read an article and find related words, they add more sticky notes. If your class discussion brings in a new word, add a sticky note (those would be for everyone). By the end of the unit, they have a personalized dictionary. Since you have made these with file folders, they can collect multiple ones to create a larger dictionary, either customized to your subject, such as science, or for a collection of stories or literature.
Promotes Connections
Finally, we want to provide support that promotes connected learning. When students are able to connect new learning with what they already know or what they are learning in other subjects, it is more effective. We always want to link the unfamiliar with something familiar. The majority of new concepts we teach can be learned, but only in relation to other concepts.
I visited one school that emphasized learning prefixes and suffixes in the English/Language Arts classrooms. But the students were just memorizing the meanings. Struggling students in particular didn't do well, because they didn't understand how prefixes and suffixes related to anything else. The teachers created a bulletin board that was divided into four parts. There was a circle in the center with the prefix or suffix, and the four sections were labeled math, science, social studies, and everything else.
Students looked for examples of words that used the prefix/suffix in all their other classes. Teachers were careful to use them whenever possible. Then, the English/Language Arts teacher led discussions of the applicability of the prefix or suffix. Although everyone benefited, the teachers saw an increase in learning among struggling students because they were able to make connections.
Another way to help students make connections is through similes, metaphors, and analogies. At the early grades, this can begin with simple comparisons. Marcia L. Tate, in Social Studies Worksheets Don't Grow Dendrites, shares an example. She recommends using the book I'm as Quick as a Cricket by Audrey Wood as a prompt for similes. Once you read the books to and with your students, ask them to fill in the pattern, I'm as ______ as a _____. Then discuss those similes and how the students made the connections.
For older students, she recommends asking them to form direct analogies by taking one concept and connecting it to another concept that is dissimilar. For example, How is democracy like a railway station? Or How is an election like a pizza? Not only are you teaching connections, it encourages students to become critical thinkers.
Conclusion
All students need support to increase learning, but for our struggling students, it is critical. Planning for support that leads to independence is structured, differentiated, and promotes learning connections.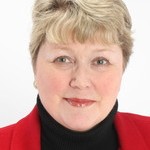 About the author
Barbara R. Blackburn is the author of 15 books, including her newest, Motivating Struggling Learners: 10 Ways to Build Student Success. She is a sought-after national speaker and consultant, providing lively and practical workshops for teachers at all grade levels. She can be reached through her website at www.barbarablackburnonline.com.
Twitter @BarbBlackburn , #edrigor
LinkedIn Barbara R. Blackburn