Rigor and the Common Core: Just the Beginning
By Barbara Blackburn
Click here to read the transcript of live chat defining instructional rigor.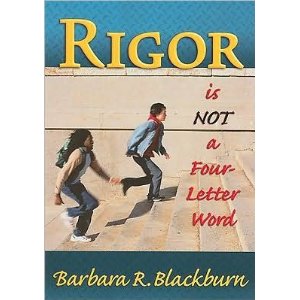 Rigor is one of the most discussed topics in education today, especially given the emphasis through the Common Core State Standards.  However, many teachers assume that because the Common Core Standards are rigorous there is no need to consider any additional aspects of rigor.  Yes, the standards are rigorous, but unless we implement them with rigorous instructional strategies, we will not achieve a rigorous classroom.  
Instructional Rigor What is instructional rigor?  True instructional rigor is "creating an environment in which each student is expected to learn at high levels, each student is supported so he or she can learn at high levels, and each student demonstrates learning at high levels (Blackburn, 2012)."  Notice we are talking about four distinct aspects of the classroom: environment, expectations, support, and demonstration of learning. 
Environment First, we need an environment that supports rigor.  An appropriate classroom culture focuses on risk-taking, since working at higher levels requires that student take a risk.  How do we do this? First, by reinforcing progress, so that students see they are rising to higher levels, step-by-step.  Next, it's important to recognize and praise effort by students.  When we do so, students put forth more effort, which leads to increased student achievement.  Finally, we should emphasize grit, or persistence. According to Angela Lee Duckwoth, grit is having resilience in the face of failure, and having deep commitments to something, such as learning.  Grit is continuing to focus and move forward, even when stumbling or struggling with learning.  It's another aspect of the classroom culture that allows students to thrive in a rigorous environment.
High Expectations Reaching the raised expectations set by the new Standards will be challenging for students. We must consider how we let our students know that we truly believe they can meet the expectations identified in the new standards. For example, the language we use when teaching the standards can reflect high expectations or low ones.  We can say, "I know we have new standards that are challenging, but I also know you can do it!" or we can state, "Of course you don't know this.  We have these new standards that are too hard."
One of the ways in which the standards raise the bar is by focusing on the application of knowledge through higher-order thinking skills. Simply asking higher-order questions is not enough. We must be mindful of how we respond to students' answers to our questions. For example, do we accept a low-level answer from a student? Or if they don't know the answer, do we move on or answer the question ourselves? Each of those responses reflects a lack of high expectations for the students, and therefore is not rigorous. As such, we can teach toward rigorous standards in an environment that is not truly rigorous.
Support Another critical aspect of rigor is the increased support for student learning. There are a variety of ways to support students during the transition to new learning. First, make expectations clear to your students. Frequently, students don't learn because they did not understand the goal. Teachers can reframe the standards as questions for students to answer. Questions shift the perspective to the learner, as opposed to the teacher, and they tap into the investigative nature of learning. For a student, the question becomes, "what do I need to figure out?" vs. "what is the teacher talking about today."
Second, understand that scaffolding strategies will continue to be an integral part of your instruction. The exact strategy and tools you will need for your students will depend on your individual situation (and on the individual learners), but they are still needed. If anything, the higher standards will demand an increased focus on using chunking, graphic organizers, metacognitive strategies, and many other tools to help students be successful.
Demonstration of Learning The CCSS are to be accompanied by matching high-level assessments. It is likely that some of these assessments will be more useful to teachers than others, and the immediate emphasis appears to be on summative assessments. It is important that we remember the critical role of formative assessments. As we ask students to meet a new set of standards that is more challenging, they will likely struggle. One of the best scaffolding strategies we can use is to assess their work frequently in a manner that provides feedback so they can adjust what they are doing.
It is imperative that we not allow students to fall through the cracks in this process.
Formative assessments can provide information about each individual student so that we
can catch each student at the point when they need assistance. Keep in mind that formative
assessments may be written, or more formal, but the key is to assess each individual student.
Calling on one student in a large group to answer a question provides formative assessment
for that one student. There are alternatives that allow you to assess all students throughout
the learning process. Ask students to use pair-share to answer the question, then ask each to
turn to a new partner and share what their first partner said. This allows each student to
participate, and it requires a higher level of listening skills than the standard pair-share.
You can also use thumbs-up/thumbs- down to ask students to determine if they agree with
one student's answer. Clickers are a high-tech option for immediately seeing each student's
response; individual dry-erase boards offer a low-tech alternative.

Ultimately, the new CCSS are an excellent way to create immediate, rigorous expectations
for students. However, standards, benchmarks, curriculum maps, and lesson plans are all
just plans for the future or outlines of practice. They come to life in classrooms…places where
risk taking is encouraged and supported, minds are challenged, and learning and learners
are valued. This environment is carefully crafted by teachers.

A Final Note

Real change, lasting change, change that impacts the students who need it the most, happens
at the classroom level. The true power of making a difference for a student lies in the hands
of the teacher. The teacher is always the key. It's not the textbook, or the latest program on
the market, or even a policy. It is how an individual teacher—it is how you use the textbook
or program with your students. It is how you implement the policy.




In classrooms where all students learn, regardless of gender, ethnicity, poverty level, or
background, teachers care about their students. The old proverb is true: students really don't
 care how much you know until they know how much you care. Building a strong relationship
with your students is important, but it isn't enough. You also have to care enough to connect
to your students in ways that help them rise to higher levels.

Rigor is ensuring that each student you teach is provided the opportunity to grow in ways
they cannot imagine.
 Sources
Blackburn, B. (2012). Rigor is NOT a Four-Letter Word (2nd edition). New York: Routledge.
Also by Barbara Blackburn
Motivating Your Students to Succeed
Shaping the Culture of Your School: 4 Tools for Leaders
Academic Rigor (Transcript of live chat)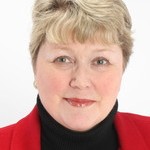 About the author

Barbara is a best-selling author of 14 books, including Rigor is NOT a Four-Letter Word.   A nationally recognized expert in the areas of rigor and motivation, she collaborates with schools and districts for professional development.  Barbara can be reached through her website: www.barbarablackburnonline.com or her blog: rigorineducation.blogspot.com.