Goal Setting Techniques To Use For Student Success
By Barbara Blackburn
@BarbBlackburn, #edrigor
.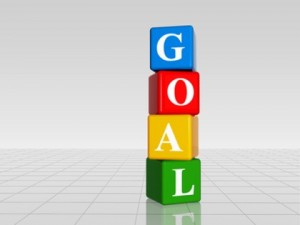 Society focuses much attention on goal setting. You can read books, listen to tapes, attend seminars, or see programs on television about having a goal-oriented attitude, setting and achieving goals, and balancing your life through prioritizing goals.
We do the same thing in education. In fact, just about everything we do is founded on goals, particularly long-term goals. When students ask why they must learn whatever you are teaching that day, the answer is usually "Because you'll need it later in life," "It's on the test," or a similar response. We expect students to spend their time pursuing goals they may not even want.
I'm not going to say to quit teaching concepts students need later. What I am going to suggest is that we frame learning and goal setting in terms students can understand, and hopefully, in a way they can use to set personal learning goals. We also have to recognize that, for some students, our goals are not their goals. We may want them to love reading or make good grades, but they may be focused on impressing you, or making Mom and Dad happy, or being a rap star. To some degree, we are looking for a balance of our goals for them and their own personal goals. Teaching goal setting can start with even the youngest children (lining up quietly, listening quietly to a story), and it builds as they get older. Good goals provide direction and may help students make good choices, rather than leaving them susceptible to peer pressure and following the crowd.
SMART Goals
Students need to set and achieve goals to build a sense of confidence, which leads to a willingness to try something else, which in turn begins a cycle that leads to higher levels of success. Success leads to success, and the achievements of small goals are building blocks to larger goals. I like the model of setting SMART goals because they are simple and understandable for students.
SMART
S Specific
M Measurable
A Attainable
R Realistic
T Timely
Let's look at how this works with students' goals. Peter is a high achiever who wants to be perfect. In fact, if you ask him for his goal, he'll say it is to be a perfect student. But that isn't specific or measurable because perfection is subjective and difficult to measure. It is probably not attainable or realistic be- cause perfection is such an elusive goal; and it isn't timely because there is no end date. This sets Peter up for failure, because there is way to achieve the goal and move on to the next one.
I also like the SMART goals approach because it forces you and/or your students to break down the specific steps needed to achieve the goal. I watched a parent respond to the following comment from a teacher: "Your daughter needs to study harder to do well in my class." He replied, "My daughter is studying hard. What do you mean study harder?" This parent was looking for actions he could control, and the vague nature of the statement frustrated him. It is more helpful to describe the specific next actions to take. Think of items on a list that can be checked off when they are completed.
We know what those are. By study harder, we really mean things like read the text selection, take notes in class and study them at home; do your homework every night and if you have a question, first try to find the answer, then ask the teacher; and don't wait until the last minute to work on a project, work on it a little every night. The problem is that we don't always say these things to parents or students, or we say them once and don't provide further reminders.
Student Goal-Setting Activities
A good place to start is to talk about goals with students. You can share one of your goals, and discuss their goals. You may have to start broader with dreams, and then focus on the specific goals. I visited a classroom that had a large bulletin board titled Our Goals. Each student wrote his or her goal and posted it for everyone to see. Many wrote the standard "make good grades," but some wrote more personal ones. Other options are to have students write about their goals in journals. The point is to have them identify their own goals and for you to know about them so you can tie learning to their goals.
I want to make it out without any conflicts and working toward being a model and designer. I will do my best to follow directions. – Shayla
I used a unique goal-setting activity each year. My students and I enjoyed creating time capsules for each person using paper towel cardboard rolls. At the start of the school year, I asked them to [continued on pg. 2]