Four Myths of Student Motivation
By Barbara Blackburn
Tweet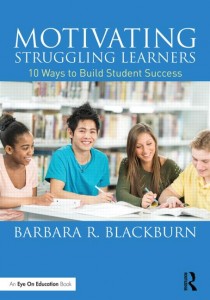 @BarbBlackburn has just released her new book, Motivating Struggling Learners: 10 Ways to Build Success.
Student motivation is one of the biggest challenges we face as teachers. As we consider how to motivate students, we need to consider the four myths of student motivation.
Myth One: The Student Just Is Not Motivated
Have you ever said this about a student? I know I did when I was teaching—usually when nothing I did worked with a particular student. But this is never true; we are all motivated by something. When you say this, chances that you really mean that your student is not motivated by what you want or expect.
For example, Philip is the class clown who never misses an opportunity to crack a joke. He doesn't do his homework, and any time you ask him to respond in class, he turns it into an opportunity to perform a comedy routine. From your perspective, he is just a cutup who draws other students away from learning. You have tried to deal with this in a couple of ways, including referring him to the office for misbehavior. You noticed, however, that the next day at lunch, he was entertaining his classmates with the story of his visit to the office. Finally, out of desperation, you have decided not to call on Philip anymore, to limit his opportunities to act up in class.
In this case, it's easy to accept the myth the students aren't motivated; on the surface, he doesn't seem care. But students are strongly motivated by two powerful emotions: pleasure and pain. Philip craves attention and wants to be popular. His parents are divorced; and at lunch with his friends who laugh at his jokes, he feels good because he temporarily forgets that his parents argue all the time.
Philip is motivated—just not by you or your classroom. This happens far too often. To combat the myth of students just aren't motivated, learn as much as you can about your students and their interests.
Myth Two: You Can Motivate Someone
This is a double-edged sword. It's true that you can motivate someone to perform a particular action (think of trained seals), but you aren't truly motivating him or her for any length of time. If the stakes are high enough, and if you use the right rewards or punishment, even the most resistant person will conform long enough to get the reward or avoid the punishment. But, to motivate the student to continue, you would have to ratchet up the stakes.
I have seen this happen with a popular reading incentive program. Students earn points by passing a test showing they read the book. Then, students cash in their points for rewards. This sounds pretty good (I know I like the rewards I can earn with my frequent flier points), but it can take a negative turn. I've been in schools where the prizes are pencils, or bookmarks, or books; but as students get older, they want or need more and better prizes to keep reading. The prizes become electronic games or CDs. I was appalled to read a news story praising an area high school for their innovative reading program. The school wanted to encourage reading, so it purchased the incentive program; and to motivate their students, they gave away a car!
You've probably seen the same thing in terms of using punishment as a motivator. Eric constantly misbehaved in my class, and he quickly progressed through all the negative consequences in my behavior plan. Isolating him didn't work, so I tried lunch detention. [continued on pg 2]