Expect the B-E-S-T for Your Struggling Learners
By Barbara Blackburn
@BarbBlackburn, #edrigor


Clearly, we should have high expectations for all students. However, I want to spend a few moments discussing those students who need extra attention from you related to this area. Jack, a fourth-grade teacher, expressed a typical frustration: "I have twenty-six students. So don't tell me that I need to do all kinds of extras with every one of them. I'm already doing all I can do."
You teach a few students (it may be one, two, or five) who need something extra from you. These students may not have a stable home life, they may not have family members who hold them to high expectations, or they may have a history of poor grades or a reputation as a troublemaker. I'm challenging you to invest additional efforts with those students.
If you choose to invest in those students who need more from you in this area, I'd ask you to Expect the BEST, which means investing in them in four specific ways: belief, encouragement, support, and time.
Belief
The most basic characteristic to invest in your students is a strong belief that they are important, valued, and capable. As Coach Mike Kryzweski says, "Confidence shared is better than confidence only in yourself." During a visit to Reid Ross Classical School, Principal Diane Antolak explained that she personally reviews all student schedules. If she sees a student has not registered for advanced classes and she believes the student should be in a higher level class, she changes the schedule, then sets up a meeting to discuss the change. I wanted to hear the students' perceptions of this process; they were quick to tell me how much they appreciated it. They were overwhelmingly positive, and as one young man said, "It makes me work harder, because I know she believes I can do the work." Sharing your belief in a student is a powerful motivator.
Encouragement
Anatole France says that nine-tenths of education is encouragement. Think of encouragement as the wrapping paper for your present of belief. Students who do not have a lot of self-confidence need a steady stream of encouragement. When you plant a new tree, you need to regularly water it so it will grow. That's what encouragement is for your students. Encouragement can be as simple as a smile or a few extra words written on a test, but it is always a signal to the student to keep trying.
Support
Comments alone are not enough for your at-risk students. They also need you to take actions to support their specific needs. This may be something as basic as making sure they have the materials they need for class. Howard Johnston, a professor at the University of South Florida, tells a story about how schools treat students who forget to bring a pencil to class. He says, "Picture what happens when we are in a store, and we get to the checkout line and are ready to write a check, but we forgot a pen. The clerk doesn't say, 'You have to put your items back. I can't believe you didn't bring a pen with you to the store.' No, they give you something to write with. But in schools, we major on minors. We make a big deal over not having something to write with." His solution was to buy a box of small golf pencils and make them available to students. The students didn't particularly like the pencils, which helped them remember to bring one next time; but for the lesson at hand, they had the needed materials.
I would guess that you already help students who are struggling, possibly by offering to stay after school, come in before school, or meet with them during lunch. Unfortunately, the support is often optional, and the students who need assistance the most don't use it. Some don't believe they need the extra help, others don't believe that it will help, and still other students have valid reasons for not accepting your offer, such as not having transportation if they stay after school. It's important to push those students a little more, and refuse to allow them to not accept your help. If there is a logistical issue with getting help, work with the parents or family members and others in your school to solve that problem.
Time
Ultimately, inspiring students through your belief, encouragement, and support requires that you make a choice to invest your time in particular students. In fewer than five minutes per day, you can ask an extra question or say an extra positive comment several times during the day. And the time you spend providing extra help will maximize learning later. The important part is not the amount of time you spend; it is that you commit to doing these things consistently with the students.
Conclusion
As a final thought, holding all students to high expectations is one of the most challenging and rewarding things teachers do. As Annette Breaux's poem shows, your beliefs about your students are the most powerful lesson they learn from you.
Tell Me I Can Do It
You said I couldn't do it
I believed just what you said
So I simply didn't try it
The desire then left my head
And as I think about it
I wonder how you can know
What I can and can't accomplish
How I will or will not grow
But I'm just a little kid, you see,
I believe just what you say
Tell me I can do it
And maybe I will someday.
~Annette L. Breaux
About the author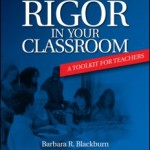 Barbara is a best-selling author of 14 books, including Rigor is NOT a Four-Letter Word. Check out Barbara Blackburn's new book: Rigor in Your Classroom: A Toolkit for Teachers

A nationally recognized expert in the areas of rigor and motivation, she collaborates with schools and districts for professional development. Barbara can be reached through her website: www.barbarablackburnonline.com or her blog: rigorineducation.blogspot.com.