3 Strategies for Developing a Growth Mindset in Students
By Barbara Blackburn
Introduction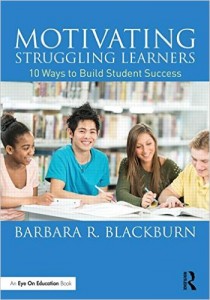 Have you ever seen a large oak tree? We had one in our yard when I was growing up, and I was always surprised at its size. But what really amazed me was to realize that huge tree started as a small acorn.
Our students are like that, too. They will grow into a tree, but right now they may be acorns. And what will help them grow are our actions. Will we stand by and just assume that our students will always be acorns? Or can we see that they have the potential to be oak trees?
Fixed Mindset vs. Growth Mindset
That's the difference between a fixed mindset and a growth mindset. As Carol Dweck explains, a fixed mindset assumes that our character, intelligence, and creative ability are static and cannot be changed. A growth mindset, on the other hand, adopts the perspective that our intelligence, creativity, and character can change and grow over time.
These two views have a tremendous impact on teaching and learning. If a teacher believes in a fixed mindset, then he or she is saying there is no potential for growth. If a child is intelligent, they will continue to be so. If a child is struggling, it's because he or she just isn't "smart enough". On the other hand, if you believe in a growth mindset, you believe that students may start with a certain amount of ability, but that can change over time with effort and persistence.
For students, which of these they believe also matters. Students with a fixed mindset typically avoid challenges, feel threatened by others' successes, and give up easily. They want to look smart, and believe that working hard at a task means they are not smart.
Students with a growth mindset believe they can learn and become better. They embrace challenge, view effort as a positive part of learning, and persist through difficulties.
Three Strategies to Increase a Growth Mindset
Build a Learning Mindset
We need to ensure that students have a learning-oriented mindset. Often, they don't. Most of my struggling learners had given up, believing they could never learn. I'll never forget Erika, who said, "Why are you bothering? Don't you know I'm stupid?"
We start the process by having this mindset ourselves, then constantly and consistently reinforcing it with students. We do this by providing the right support for them to learn, encouraging them along the path, and celebrating their resilience and success.
Teachers can also ensure that all students are engaged in the learning process. I want to share a specific questioning technique that is particularly effective for struggling learners. In Engaging Students with Poverty in Mind, Erik Jensen (2013) describes the difference between exclusive and inclusive questions. Particularly when we are activating prior knowledge, we ask questions to elicit students' experiences. However, at times, our questions may exclude struggling students, since they may not have a wide base of experiences. Instead, use questions that are more inclusive. Take a look at the samples below.
Exclusive
Who has ever traveled out of our city?
Who read a book outside of school lately?
Inclusive
Who would like to travel somewhere different?
I just read a book about xxx. Have you ever heard, read, or seen a movie about that?
Using inclusive questions will help you engage your struggling students at a higher level, as well as helping them see they can contribute to the discussion.
Reinforce Effort
Encouraging and reinforcing effort are particularly critical for those students who do not understand the importance of their own efforts. In Classroom Instruction that Works, Marzano, Pickering, and Pollock (2001) make two important comments regarding students' views about effort.
Research-Based Generalizations About Effort
o Not all students realize the importance of believing in effort.
o Students can learn to change their beliefs to an emphasis on effort.
(Marzano et al., 2001, p. 50)
This is positive news for teachers. First, we're not imagining it—students don't realize they need to exert effort. And second, we can help them change that belief.
Provide Multiple Opportunities for Success.
I believe that students should have the opportunity to redo work they do not complete at a satisfactory level. Too often, struggling learners do what they consider their best work, yet it is unacceptable. At the primary grades, we use mastery learning, the concept that students continue to learn and demonstrate learning until we know they understand. If you are already doing this, I urge you to continue. But as students grow older, we tend to stop giving them multiple opportunities to show mastery.
The use of a "Not Yet" or "Incomplete" policy for projects and assignments shifts the emphasis to learning and allows students to revise and resubmit work until it is at an acceptable level. Requiring quality work, work that meets the teachers expectations, lets students know that the priority is learning, not simple completion of an assignment. It also encourages a growth mindset.
In my university classroom, I used a grading policy with a three-part scale: A, B, and Not Yet. If my graduate students were unable to complete a project at an acceptable level (B or above), then they received a Not Yet and revise their work. Originally, my students thought that meant I was easier on grading. The first night, I usually heard someone say, "Wow, this means the worst I can do is a B. That is great." For those students whose work was not at an acceptable level, I required them to meet with me and come up with a plan for revising the work. Then I set a deadline for the revision. It's at that point that my students realized the policy wasn't easy—it was more challenging.
Since they are all teachers, it's usually one of those moments they learned more than content; they learned a process to use in their own classrooms. By the end of the semester, they had an entirely different attitude about learning and grading. As one of my students told me, "I didn't really like your Not Yet policy, but then I realized you were teaching us to focus on learning, not on a grade. I'm going to try to do the same thing with my students." When you require students to finish an assignment at an acceptable level, you show them you believe they can successfully complete the work.
Conclusion
Helping students develop a growth mindset is a critical part of a motivating and rigorous classroom. You can help your students develop this mindset by focusing them on learning, reinforcing effort, and providing multiple opportunities for success.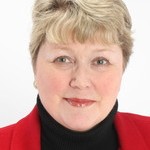 About the author
Barbara R. Blackburn is the author of 15 books, including her newest, Motivating Struggling Learners: 10 Ways to Build Student Success. She is a sought-after national speaker and consultant, providing lively and practical workshops for teachers at all grade levels. She can be reached through her website at www.barbarablackburnonline.com.
Twitter  @BarbBlackburn , #edrigor
LinkedIn Barbara R. Blackburn
Check out another of Barbara's books: Rigor in Your Classroom: A Toolkit for Teachers