Building a Relationship With Your New Students
By Barbara Blackburn
Tweet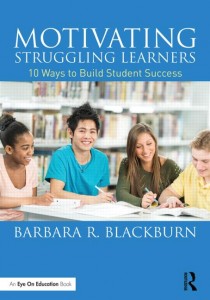 Building a relationship with your students is the most important action you can take to ensure a good year that will help your students learn. There are three specific ways to build a relationship with your students.
1. Be Open About Yourself
2. Learn About Your Students
3. Create a Safe Climate
Be Open About Yourself
First, students need to know that you are willing to share who you are. That doesn't mean you tell them everything about yourself in one big chunk, but it does mean you connect with them personally by allowing them to see parts of who you are. For example, one activity I used at the beginning of the school year was to ask students to describe their perfect teacher. I also described my perfect teacher, based on my past experiences. I shared mine first, explaining why I wrote what I did. For example, my perfect teacher smiles, just like Mrs. Allen did when I was in the fifth grade. She (or he) also expects me to live up to my potential, like my high school English teacher, Mrs. Kiser. My perfect teacher isn't a grouch, like one of my teachers (who will remain anonymous) was.
After I shared my example, students shared with each other, then with the whole group. We all laughed, and develop a shared list of characteristics of the perfect teacher. Typical characteristics included being nice, asking me how I'm doing, not yelling at me, helping me if I need help, not giving too much homework, and saying something positive if I did something right. I ended by telling them that, although I would never be perfect, I would try to meet their needs.
Learn About Your Students
It's also important to learn about your students—who they are, how they learn, and where they are from. One powerful way to do this is to have students write about themselves. As Los Angeles teacher Sarah Ehrman explains,
My first assignment is [to ask students to write an] autobiography. It must be three typed pages, anything about themselves. Everyone wants a chance to tell their story; where they were born, about their family. They can tell me "I have a bad home situation"; or "I work long hours." They write about a sport, extracurricular activities, anything they want. They are motivated when they think you want to know about them. When I started my first job, it was because the other teacher quit (it was an inner-city school teaching the "troubled" kids). They had 15 subs before I came, and they knew they were "bad kids." One of the students told other teachers [they] were so surprised that I cared enough to have them write 3 pages and that I cared enough to read it. I did not know that would be a big deal, but it was.
Another option is to ask students to create a timeline of experiences. After the students write their individual autobiographies, you can add photos (just take digital pictures and print them) and put them in a notebook to create a class book. It's a great way to encourage students to get to know each other better by reading the book. It's also a terrific tool for new students, parents, administrators, and substitute teachers.
Finally, a creative way to learn about your students is through the use of Culture Boxes. At the beginning of the year, ask your students to put 7–10 items that represent different [continued on next page]