Five Keys to Effective Grading
By Barbara Blackburn
Tweet

@BarbBlackburn, #edrigor
Her new book: Motivating Struggling Learners: 10 Ways to Build Success.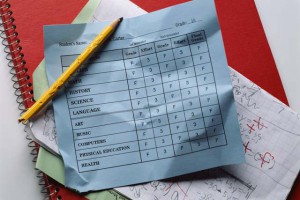 Grading is a controversial topic. That's partly because it is very personal. It's your judgment about a student's work. However, grading can also be controversial because what the evaluation is based on can vary. Let's look at key indicators of effective grading, using the acronym of GRADE.
Give Students an Opportunity to Participate in Grading
Students feel more ownership when they have a part. So, involve them in the grading process. Be sure they understand what the grade represents, have them look at samples and grade the items themselves, ask them to self-assess their work, and let them create rubrics. In one classroom, the students determined the levels for rubrics. As the teacher explained, "I didn't particularly like the names for some of the levels, but the students chose them, so I stayed with them."
Student-Created Categories
4 . . . overachiever
3 . . . proficient-got it
2 . . . stuck in the middle
1 . . . at the bottom
After students create the levels, guide them through the process of what would be an "A" or "B," etc. Student ownership doesn't mean you aren't involved; it sim- ply means you guide the process rather than doing it all yourself. After the rubric is finished, ask students to assess a sample paper so they see how the rubric applies to actual work. Then, revise it together, and you can move forward with its use. It's an excellent way for students to be invested in grading.
Remove Effort, Behavior, and Attendance from Grading



One of the mistakes I made as a teacher was grading on things that didn't involve the actual work. For example, if a student "tried hard," I gave them credit for their effort. So as long as they attempted to do the work, the student received partial credit, whether any of it was correct. I've since learned to give students multiple opportunities to complete the work correctly, along with coaching the student, but effort alone does not qualify for a high grade.
Next, I unconsciously graded based on behavior. It wasn't that blatant, of course, but if I had a student who was well behaved, and there was a questionable call on the grade, I gave the student the benefit of the doubt. I should have graded equally, no matter what a student's behavior was. But I was young, and didn't realize I was doing it.
Finally, it's easy to incorporate attendance into grading. If a student was absent, I'd take points off for each day they were late with the assignment. It didn't matter why they were absent; my policy demanded points taken off for late work. In effect, I penalized students because they weren't at school. Some had good reasons for missing, some less so. But the bottom line was that I was choosing to grade, not on their work, but on their presence.
If I could return to my classroom and do it again, I would remove these three factors from grading. A grade should reflect the quality of work, not anything else.
Align Grading to Assessment
It's important to align your grading to the actual assessment. That may sound basic, but I've often seen an assignment that called for certain outcomes, but the grade was based on other criteria. How frustrating for a student. Rubrics are an excellent tool to help you align grading to the assignment. Start by looking at the assignment, develop categories of the criteria, then write the qualities for each category for each grade.
Don't Give Zeroes
Too often, students don't complete work that requires a demonstration of learning. Typically, this results in a low grade. We often think this means students learn the importance of responsibility, but more often they learn that if they are willing to "take a lower grade or a zero," then they do not actually have to complete their work. For some, that is a preferable alternative to doing work. Perhaps they don't fully under- stand the assignment or they may not want to complete it. However, if we truly have high expectations for students, we don't let them off the hook for learning.
The use of a "Not Yet" or "Incomplete" policy for projects and assignments shifts the emphasis to learning and allows students to revise and resubmit work until it is at an acceptable level. Requiring quality work, work that meets the teacher's expectations, lets students know that the priority is learning, not simple completion of an assignment.
Extra Credit Undermines Authentic Grading
When I was teaching, I struggled with the whole concept of extra credit. It never seemed to accomplish what I thought it would. The students who usually earned it didn't really need it, earning an A plus instead of an A or an A instead of a B. It also seemed to overemphasize points vs. learning.
A few years ago, one of my graduate students was furious because I wouldn't give her extra credit. She was on the border between an A and a B, and she wanted me to increase one low grade because she had done a good job "the rest of the time." In effect, she wanted me to give her extra credit on a very poor assignment because she wanted it.
I considered this request, as well as how a similar situation would conclude in real life. If my husband does extra work on a project for his job, he doesn't get an extra boost in his salary. It may impact his future salary or any raises, but he doesn't get an additional payment for his quality work. On the other hand, if he did a poor job on the project, he certainly doesn't get rewarded for doing something else to make up for it. In other words, extra credit isn't a part of the real world.
Conclusion
These five principles reinforce one key point: grading should be based on the quality of work and nothing else. In order to do that, we need to eliminate all other factors from the assessment and evaluation process, and be sure students are clear as to what we are looking for.
About the author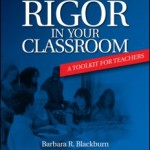 Barbara Blackburn is a best-selling author of 14 books, including Rigor is NOT a Four-Letter Word. Check out Barbara Blackburn's book: Rigor in Your Classroom: A Toolkit for Teachers

and her latest: Motivating Struggling Learners: 10 Ways to Build Success.
A nationally recognized expert in the areas of rigor and motivation, she collaborates with schools and districts for professional development. Barbara can be reached through her website: www.barbarablackburnonline.com or her blog: rigorineducation.blogspot.com. @BarbBlackburn, #edrigor