Increasing Student Ownership of Learning by Barbara Blackburn
By Barbara Blackburn
Tweet
Follow Barbara Blackburn on Twitter @BarbBlackburn
Do you have students who are not living up to their potential?  By shifting responsibility for learning to students, students take control of their learning, which increases engagement, and in turn, increases student achievement. There are several characteristics of student ownership of learning.
Key Characteristics
Students influence instruction.
Students at center of learning.
Students learn independently and with others
Active Learning.
Increased motivation and understanding.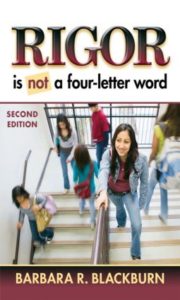 Strategies for Increasing Ownership
There are a variety of ways you can shift ownership of learning to students.  First, you will need to shift your role from director of learning to a facilitator.  You've likely heard the phrase "Shift from sage on the stage to guide on the side.".  That's what this entails.  It's a change, and one that requires you to give up overall of the learning.  You will need to trust your students, and there are times that is difficult.  You may think, "My students can't handle it" or "They will get out of control".  First, you are still facilitating learning, and are very involved in the learning process, just in a different way.  Next, unless students are given opportunities to own their learning, they will never be successful in the process.
Self-Discovery through Genius Hour
Next, provide students time for self-discovery.  One of the most effective ways to do this is through a Genius Hour.  Genius Hour is inspired by Google's efforts with their employees.  20% of employees' time is motivated by passion and curiosity.  They found that their employees were happier, more creative, and more productive. Educators have adapted this for use in a classroom, shifting to the concept of providing students one hour to work on their passions.  When we apply this with students, and allow them freedom to design their own learning and explore their own interests, which increases an intrinsic sense of purpose.  Many schools are now implementing Genius Hour, which occurs for a minimum of one hour per week.
Terry Heick of Teachthought (www.teachthought.com) describes 6 principles of Genius Hour.  By integrating these principles, your students are more likely to be successful.
Principles for Genius Hour
Sense of Purpose
Design (from Students)
Inquiry and Navigation
Creation
Socialization
80/20 (20% of Classroom Time Dedicated to Genius Hour)
We must also consider common mistakes that can derail your efforts to increase rigor through Genius Hour.
Common Mistakes
Allowing total choice without providing guidance and support (some structure is needed, particularly as they work on their projects).
Assuming you aren't teaching during Genius Hour (you are teaching in a different way, as a facilitator of learning).
Forgetting to leave time for processing and reflection (critical to success, this also includes feedback from others and you).
Not providing the opportunity to practice the final presentation.
There are several strategies that can help you structure Genius Hour to ensure success of all students.  First, once students have chosen a topic, ask them to give an "Elevator Pitch" which is a 3 minute talk proposing the idea.  They can present this to other students, or to you.  Next, provide an opportunity for students to gain feedback from you and other students.
Guiding Questions for Genius Hour Feedback
What is the overall question you are answering?
What have you done/where are you in the process?
What has changed since you started/since we last talked?
What help do you need from me?
Is there anything else I should know?
Finally, be sure to provide an opportunity for students to rehearse their presentations.  Too often, we expect students to perform without [continued on page 2]