Shaping the Culture of Your School: Four Tools for Leaders
By Barbara R. Blackburn and Ron Williamson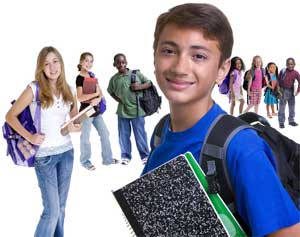 The culture of a school is a powerful tool for shaping the behavior of those who work there because it reflects the important values and underlying assumptions of that school. Culture is a powerful set of rituals, traditions, and practices that are often transmitted without question from generation to generation.  Let's look at four tools that can help you encourage a culture of growth in your school.
Sharing the Vision
It is important for leaders and teachers to have a personal vision that can build to a shared vision. The beginning of the school year is a great time to think about vision but it can take place at any time.  A Vision Letter is an engaging and motivating way for teachers to share their visions of their classrooms.
Ask teachers to imagine it is the last day of school.  This year turned out to be their best year ever, one that far exceeded their expectations.   Now, ask them to write a letter or e-mail to another teacher describing the past year—all that students accomplished, the rigor of their classroom, ways they supported student learning.   Next, ask the teachers to share their letters with a colleague.  Use this as a starting point to discuss the shared vision of the school.
Another alternative is to ask teachers to write the letter to you, including all the elements described above.  However, also ask them to describe how you helped them accomplish their goals. You can then use the letter as a part of a conversation with each teacher about his or her vision of a more rigorous classroom and how it relates to your vision of a more rigorous school.  It also provides an opportunity for you to understand how you can help each teacher accomplish his or her goals.
Name It, Claim It, and Explain It
One way to celebrate a culture of best practices is "Name it, claim it, and explain it."  As you see an example of exemplary instruction in a classroom, take a digital picture or video of what occurs.  Then, begin each of your faculty meetings by projecting the picture or video.  Explain to your faculty, "I saw something great this week.  It's up here on the screen.  If it belongs to you, stand up and name what you did, claim it as yours, and explain what you were doing."  With this tool, you celebrate something positive related consistently in your meetings.
Recognize the Right People
Every school has heroes and heroines among its students and staff. They are people who are admired by others in the school for how they go about their work and live their lives.  As a leader you want to reinforce the people who reflect your school's commitment to learning. You can do that by recognizing people who reflect the vision and experienced success.
When Mill Creek Middle School was constructed an old rowboat and an oar were found on the site. The principal hung the boat in the main office and used the oar to recognize teachers for their exceptional commitment to the success of students. Every month the oar was awarded to one teacher who "goes over and above" to support students. Dressed as an old boatsman the principal enters the teacher's class and recognizes this or her accomplishments. The oar remains in the class for that month as a visual reminder of the teachers' commitment to the school's students.
Tell Turnaround Stories
In every school, teachers, parents, students and administrators tell stories about memorable people or events. Stories are powerful because they convey the history of the school and reflect the school's priorities and values.
We met a principal in suburban Phoenix who used stories to mold the culture of his school. When he arrived teachers and families talked about the challenges faced by students and how this negatively impacted learning. As he listened to the stories he recognized that the stories shaped expectations for students.
He set out to change the culture of his school by identifying "turn around" stories, true stories of students who had persevered and made significant improvement in their learning. He also gathered stories about families and about teachers who contributed to this success.
Whenever possible he told one of his stories at both formal and informal meetings with parents, with members of the community, and with other administrators in the district. These stories helped shift the culture from "students can't learn" to "students can learn with our help".
Final Points
Shifting the culture of your school can be a challenge.  However, there are concrete ways to help leaders effect change.  Used consistently, these four tools will help you shift the attitudes in your school to allow for increased growth in student learning.
Your thoughts? What has worked for your school? Post your comments below.