Apple Seeds: Quotes for Educators
By Barb Stutesman

In case you missed them, here are the daily Apple Seed quotes posted By Barb S./ret. on the main chatboard during last month. Enjoy! Please add your favorite quote to the Comments section following this list.

01-01:  No one ever regarded the first day of January with indifference. 
                        ~ Charles Lamb
01-02:  Now is the accepted time to make your regular annual good resolutions. Next
                        week you can begin paving hell with them as usual.   ~ Mark Twain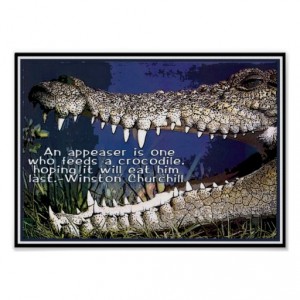 01-03:  And now we welcome the new year, full of things that have never been.
                        ~ Rainer Maria Rilke
01-04:  We judge ourselves by what we feel capable of doing, while others judge us by
                        what we have already done.   ~ Henry Wadsworth Longfellow
01-05:  An appeaser is one who feeds a crocodile, hoping that it will eat her/him last.
                        ~ Winston Churchill
01-06:  Treat people as if they were what they ought to be, and you help them to
                        become what they are capable of being.   ~ Johann Wolfgang von Goethe
01-07:  Children are our most valuable natural resource.   ~ Herbert Hoover
01-08:  When you go into the wilderness, the only thing you can count on is what you
                        take with you. And essentially, the wilderness is anywhere but your home
                        or office.   ~ Randy Pausch
01-09:  Become a possibilitarian. No matter how dark things seem to be or actually are,
                        raise your sights and see possibilities – always see them, for they are always
                        there.   ~ Norman Vincent Peale
01-10:  You can't get too much winter in the winter.   ~ Robert Frost
01-11:  Always bear in mind that your resolution to succeed is more important than any
                        other one thing.   ~ Abraham Lincoln
01-12:  Winners have simply formed the habit of doing things losers don't like to do.
                        ~ Albert Gray
01-13:  The art of being wise is the art of knowing what to overlook.  ~ William James
01-14:  Isolation breeds conceit.   ~ Charles Dudley Warner
01-15:  Darkness cannot drive out darkness; only light can do that. Hate cannot drive
                        out hate; only love can do that.   ~ Martin Luther King, Jr.
01-16:  Apologies are not pass / fail.   ~ Randy Pausch
01-17:  Winter is not a season; it's an occupation.   ~ Sinclair Lewis
01-18:  No one can sincerely try to help another without helping her/himself.
                        ~ Charles Dudley Warner
01-19:  The joy that you give to others is the joy that comes back to you.
                        ~ John Greenleaf Whittier
01-20:  The time is always right to do what is right.   ~ Martin Luther King, Jr.
01-21:  You will recognize your own path when you come upon it, because you will
                        suddenly have all the energy and imagination you will ever need.
                        ~ Jerry Gillies
01-22:  Halfhearted or insincere apologies are often worse than not apologizing at all
                        because recipients find them insulting. If you've done something wrong in
                        your dealings with another person, it's as if there's an infection in your
                        relationship. A good apology is like an antibiotic; a bad apology is like
                        rubbing salt in the wound.   ~ Randy Pausch
01-23:  What you're supposed to when you don't like a thing is change it. If you can't
                        change it, change the way you think about it. Don't complain.   ~ Maya
                        Angelou
01-24:  While I relish our warm months, winter forms our character and brings out our
                        best.   ~ Tom Allen
01-25:  I don't know the key to success, but the key to failure is trying to please
                        everybody.   ~ Bill Cosby
01-26:  The welcome mat is always out at the door to opportunity.   ~ J. Richard Falls
01-27:  Learn more; then you will know how much more you need to learn.
                        ~ Chinese proverb
01-28:  To teach is to learn twice.   ~ Joseph Joubert
01-29:  Proper apologies have three parts: 01) What I did was wrong. 02) I feel badly
                        that I hurt you. 03) How do I make this better?   ~ Randy Pausch
01-30:  Don't undermine your worth by comparing yourself with others.   ~ Brian Dyson
01-31:  Winter strips the leaves from around us, so that we may see the distant regions
                        they formerly concealed.   ~ Jean Paul