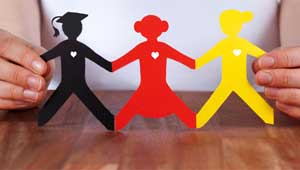 Being prepared is essential - no matter the endeavor. Sports teams have preseason training camps, actors have production rehearsals, and schools have emergency drills. The effective teacher plans, and then plans some more.
The effective teacher shares the classroom plan with students, who then comprehend their role in the classroom management plan and can become responsible for carrying out the plan. Students will come to understand the important role they play in classroom management and the success of the class during the school year.
If you've ever painted a wall, you know that the preparation work takes longer than the actual painting. Poor preparation results in a poor paint job that has to be redone. Invest time to prepare, so that before the bell rings for a new school year, your students are following procedures as they begin their journey for a successful year ahead.
Create a classroom environment with a Culture of Consistency, so students know what will happen every day. Creating a Culture of Consistency streamlines the classroom and allows for maximum use of instructional time....

By Marjan Glavac
A number of years ago a first year teacher asked me for some help.
He told me that his students took all his pencils.
They took all his glue bottles.
And his class set of scissors.
He was angry, frustrated and hurt.
"These students have no sense of responsibility," he told me.
I agreed with him.
I …

By Susan Fitzell
Bev and her husband had hosted an inner city teen for a few of weeks during the past summer. She gushed about what a fulfilling experience it had been, then she paused, reflected for a moment, and confessed, "It was eye-opening, though. I wasn't prepared for how different our worlds …

By Leah Davies, M.Ed.
Most children object to going to school at one time or another. However, a school phobic child often misses many days for vague reasons. Parents should be concerned if their child appears irrationally anxious, depressed, scared, and/or regularly says that he or she feels too sick to attend class. Here …

By Todd R. Nelson
The new school year commences. There is new sand in the sandbox, and new sandbox players in their new sneakers—the faces of the future at play just outside my principal's office window. I cherish all the hopeful possibilities of their giggles, and squabbles. The life of the sandbox seems halcyon …

By Linn Conway
It seems that we wait all year for summer to arrive and within a matter of minutes it is time to start planning for the new school year. As I prepare for the coming school year my mind turns to the students and the challenges they face. There …

By Teachers.Net News Desk
A great icebreaker for the first day of school!

By Linda R. Young
Why is it that many teachers have such a lackadaisical attitude when it comes to professional attire, and what are the ramifications of too-casual dress?