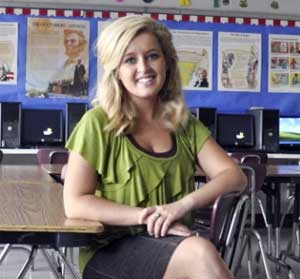 Twenty-two-year-old Kara Moore was hired as a 6th grade teacher to start the August 2011 school year. Excitedly, she ordered 200 "Miss Moore's Math Class" pencils. She spent a week getting her room ready for that all-important first day of school.
One week before school began, the principal called her into his office and told her that her teaching assignment had changed. She was going to teach a different subject to a different grade level in a different classroom, on a different floor in her building....

By Todd R. Nelson
Do the artifacts of learning ever end? Not as long as we are expressing our imagination by making things with our hands.

By Karen Cox
Karen's tips will help you and your students glide through the first days of back to school!

By Steve Reifman
By employing the strategies described in the article, reading will become something that students do willingly, even eagerly, and the adults in their lives will not have to resort to trickery, bribery, manipulation, or any other tactic that will, at best, lead to temporary compliance.

By Teachers.Net News Desk
Pizza is more than delicious. With these activities and lessons, pizza can be the vehicle for motivating math, art and literacy learning.

By Alan Haskvitz
According to the author, there has never been a study done about the relationship between community size and test scores – until his students set out to change that.

By Barb Stutesman
In case you missed them, here are the Apple Seeds quotes posted by Barb S. every morning on the Teacher Chatboard….

By Ron Victoria
August is…
National Catfish Month, National Golf Month, National Eye Exam Month, National Water Quality Month, Romance Awareness Month, Peach Month, and Foot Health Month. And more…!