A Visit with Students: An Author's Story
By Artie Knapp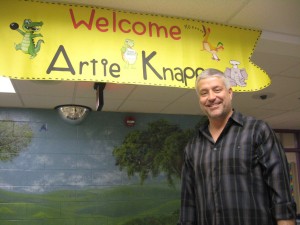 The gymnasium was packed! Excitement was in the air! As I was introduced to the entire elementary school, I was holding a jar. I could tell the kids were wondering what was in it. I told the students that we would be watching a couple of my picture book videos, and that I looked forward to their questions afterwards. But first, I asked a young girl sitting close to me what kind of jar I was holding.
The girl answered that it was an empty pickle jar. I turned around with my back facing everyone. Then I spun around, facing the students once more.  I asked the same young girl what was in the pickle jar now. She said a crocodile. She was right.
"Is it alive?" asked one of the students.
"No," I said. "It's a fake crocodile. His green skin looks like a pickle though, huh?"
Before watching the videos, I wanted to share how story ideas can come to a writer when they least suspect it.  I explained that my published story about a crocodile in a pickle jar came to me one night while buying pickles at a grocery store.
Then the lights in the gymnasium were turned off as the videos were shown. The students enjoyed them and clapped loudly when they were over. The teacher who had introduced me asked the students if they had any questions for me. Many hands went up. I pointed to a student sitting close by.
"I have a hamster at home," said a young girl.
I smiled and said that was great. Then I pointed to a young boy sitting farther back. The boy asked me how long it took me to grow my beard.
"Oh, about 24 hours," I joked.
The little boy's eyes were as round as dinner plates.
The teacher interrupted to remind the students to only ask questions about my books.
The questions and comments kept coming.
"Are you rich?"
"I have a dog and her name is Betsy."
"How famous are you?"
"How big is your house?"
I am always happy to answer any questions that young students have for me. And besides, they did have some about my work, too.
After lunch, I met with the students in their classes. We discussed the videos and I read a couple of my stories. They shared a welcome sign that they had made for me. I liked that very much. I discussed what it is like to be a children's author. Then I signed copies of my books for them.
As I signed the last two books for a young boy, he told me that he loves my work. It doesn't get any better than that for an author.
After the young boy turned around to walk away, I told him to keep reading. He looked back and said he would. The young boy told me to keep writing. I said I will. He gave a smile and a little nod, and then walked out of the room. That was a special moment for me. I know how lucky I am to write for kids.