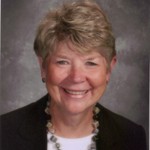 The final bell had rung, the halls had emptied, and a small 6th grade boy struggled with a Trapper Keeper, three heavy textbooks, and his trombone case. One or the other kept falling out of his arms.
"Can I help you with some of that?" I asked.
"Yes, please," he answered.
"Are you trying to make the bus?"
"No, my mom is waiting for me. "
So we made our way together down the long hall, chatting about school, his homework, his family's plans to celebrate his grandmother's birthday that evening.
He was open and trusting because even though I was a stranger, I was obviously a teacher.
I delivered him with a smile to his mother.
It was a small encounter, but a significant one for me. When I turned away, I felt that I was part of the staff, a teacher of children again....