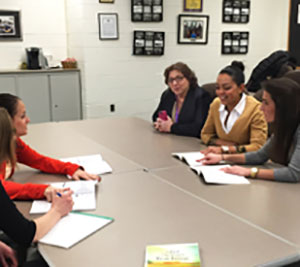 Study after study has shown that most new teachers would forego more money in favor of a good principal, the chance to work collaboratively with other highly motivated teachers, and an orderly, focused school atmosphere. An induction program provides these components.
The major reason for having an induction program is to provide new teachers with the support necessary to become effective teachers.
Why does the Islip induction program work? It is because it spends its professional time and money developing human capital, and they do it consistently—year after year after year after year.
The Islip induction program has shown that effective and successful teachers do not leave. They not only stay, they are the most significant factor in determining student learning and achievement....

By Jennifer Davis Bowman Ed.D.
I know that we always hear about how "I can't" stunts the growth mindset and all, but maybe we're thinking about this all wrong. Does it really have to be the end of the world when we hear our students say "I can't"? I wanted to find out. This …

By Christopher M. Longo, Ed.D
The emergence of digital means for instruction and associated resources has transformed education, especially in the last decade. A digital footprint is the information contained through online activity of one particular person. Today's high school students do not have the mindset nor the skill to use social media …

By Barb Stutesman
Another crop of excellent quotes that will inspire you and your students and can make your newsletters and morning announcements more meaningful.

By Internet Scout Report
The title of this website says it all. A feature of the iLibrarian blog from the Open Education Database (OEDb), readers will find here a list of over 250 excellent digital libraries and archives.

By Barbara Blackburn
Grading is a controversial topic. That's partly because it is very personal. It's your judgment about a student's work. However, grading can also be controversial because what the evaluation is based on can vary. Let's look at key indicators of effective grading, using the acronym of GRADE.

By Dede Rittman
While I was traveling in Florida for the month of January, I was stunned when the television news talked about enacting a law which would eliminate recess for elementary students, not just in Florida, but in many US states. The reason: recess takes precious time away from teaching …

By Teachers.Net News Desk
Make your Kindergarten Roundup fun and effective!