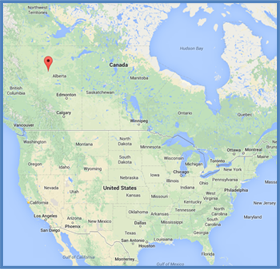 It's March as we write this column. The chill of winter still blankets most of North America. Far north in the province of Alberta, you'll find Manning with a population of 1,164, living in 461 homes, and going to two public schools. The high for the day is -13o C or 9o F.
In Manning, you'll also find third-year teacher Leah Fairs teaching a variety of subjects and students at Paul Rowe Jr./Sr. High School.
Her introduction to education came on the heels of graduating with science and education degrees from the University of Lethbridge, near the Montana border. While she had content knowledge to go into the classroom, she knew she was struggling with classroom management. During one of her preservice trainings she was put into a tiny classroom with 37 students with a reputation for "breaking" student teachers. Leah remembers, "They tried their hardest to make me cry in class. Fortunately, they failed to achieve that goal...."

By Tim Walker
In late-November, I wrote "Classroom Shock: What I Am Learning as a Teacher in Finland", a piece about three lessons I'd bring back to an American classroom if I ever returned. Since this article was published, it has appeared in three different Italian publications, and just earlier this week I …

By Barbara Blackburn
When you hear the word rigor, what is your first response? Maybe it's a negative one–rigor means hard, rigor means more homework, the most failures in a classroom, high cut scores on standardized testing, or rigor is only for gifted or honors students. A colleague of mine, James …

By Carol Corbett Burris
According to research, nearly all of which was based on elementary school data, teachers account for about 10 percent to 15 percent of the variance in student test scores. (31) That makes teachers the biggest in-school contributor to student learning growth. Out-of-school factors such as poverty and prior achievement play …

By Sarah Powley, Education Coach
April is National Poetry Month, so it was a perfect time for my colleague (a middle school English Language Arts teacher) and I to plan and present a lesson on how to read a poem. I'd been talking about one of my favorite methods for unraveling meaning in poetry, and …

By Levi Folly
After my last half marathon, as my wife, daughter, and I walked to the hotel, I suddenly thought, "Education should be like this!" What did I mean? Well, it seems to me that education could be more effective and free itself from nineteenth century notions of learning if …

By Abby Connors
If you teach young children, I have a stunningly simple, ridiculously easy positive –discipline technique that will change your life. Well, would you believe it'll make your day a little bit easier?