Coaching the Urban Educator – Positive Self-Talk: Your Personal Guidance Counselor
By Dré Cleveland
New contributor to the Gazette

An advice column, newly re-born on Teachers.net addressing challenges faced by those who teach in urban schools.  Andréa Cleveland (formerly Kioni Carter) coaches teachers who are working under what may seem like some of the harshest conditions and circumstances that accompany working in urban districts across the country on what it takes to generate positivity and motivation in their students and in themselves!
Andréa coaches urban school teachers on how to using positive self-talk as a way to generate authentic motivation in their students and in themselves.
Positive Self-Talk – Your Personal Guidance Counselor
Being an urban educator can be one of the most challenging jobs one can have.  Being a teacher in general is tough, so let's not even talk about what it's like dealing with limited supplies, limited support, and limited funding to do what you need to do with your kids.  It can be pretty frustrating, and those of us who do it day in and day out can start to lose sight of the silver lining…and you know what?  It shows up in our work with our students, and they inherit it from us, amongst others they have to deal with on a regular basis.  That said, our job is to keep them (and ourselves) motivated and focused on success.  So, what does it take?
One of the best ways to create success in both students and adults is by using positive self talk.
So, what is self talk?
Self talk is what we do all the time, day in and day out.  Most of us are not aware of what we say to ourselves, but what we say has a drastic impact on our self-esteem, our reactions and responses to the world around us, and our ability to set and reach goals.  Because most of us are not aware of what we tell ourselves, we are also not completely aware of how destructive our thoughts can really be.  Think about how that applies to you, but most of all think about the impact this must have on students whose primary thought process is "I can't do it."  "I'm not good at this."  "I'm always getting picked on." "Nobody cares about me."
Research shows that the subconscious mind acts on the predominant thoughts that we consistently activate within ourselves.  It does not care if it is true, or if it's a lie.  As long as the thought is consistent, like a faithful servant, your subconscious mind delivers that which you focus on most.  Self talk is very commonly likened to the way a computer works.  Imagine your mind as a computer CPU that stores everything you put in it.  Now imagine your thoughts as the program that you place inside the CPU's memory.  It's no secret that whatever is stored in the CPU's memory is the only thing that can come out of the printer!  Well it's the same with your own subconscious mind.
We all program our minds day in and day out with internal messages that dictate whether or not we become a failure or a success.  With this going on in a rather constant manner, you can almost guess the types of messages that your students are sending to themselves just by what comes out of their mouths!  And, that goes for you too!
Since that is the case, how do you help students change the "programming" that they are putting inside their computers?  Here are a few things you can do in the classroom to support this process:
1. Eliminate "negative" words. – Catch your students when they use words like "can't", "won't", or "not" when they are referring to their ability to do something.  Example: "I am not popular," or "I won't get a B on that test." Substitute those words or phrases for a more positive reframe like "I do have friends that like me," or "I can get a B on that test if I study."
2. Create a positivity poster.- Put up a poster that highlights words and phrases you would like to hear your students use consistently in the classroom.  Example: "I can master this."  "I am in control of this." "I am making a big improvement."  Learn more about the "Positivity Poster" on the members only My Classroom RULES! website, for use in your classroom.
3. Celebrate!- Praise your students for consistent use of positive affirmations.  Let them know you're listening and are excited about how powerful they sound.  My Classroom RULES! is developing a running list of ways to celebrate successes with your students.  Feel  free to add yours and share!
4. Point out successes.- Whenever you can, point out any little success that your children exhibit.  Connecting them to their successes and how they relate to their new thought process is key.  They need to know that "it's working."  If you haven't made a consistent habit of finding the best in everything your children do, now is a good time to start!
5. Use chants and affirmations.- Give your children a reason to repeat their new way of thinking and speaking!  As we all know, repetition is the key to learning.  What would happen to your children's thought process if they had the opportunity to consistently utilize self-affirming words and phrases?  Help them out by finding ways to weave them into your daily lesson plans and activities.
6. Walk the talk.- Take positive self talk to the next level for yourself.  Imagine teaching your students how negative self talk affects them, and then them overhearing you complaining to a colleague about how you "just can't get it together."  Set an example for your students by letting them hear you positively affirm yourself as well, especially when you fail at something.  Show your students your heart and don't try to be perfect.  Let them know that everyone has their bad days but it is their thought process that gets them to the next level!
About Andréa Cleveland…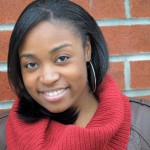 Andréa Cleveland is a Brooklyn native, an author, as well as a Certified Professional Coach and educational consultant for urban schools, sharing what works in motivating students genuinely and authentically. She has been an educator in NYC for over 10 years in many capacities, and therefore caters to the urban school community with the express and sole purpose of taking them to a new plateau of thinking and creating in their schools and in their lives. Currently, Andréa provides coaching and training programs for educators in the NYC Public School System as well as in the education-based, non-profit sector. Her primary workshop, My Classroom RULES! is her pride and joy and features the My Classroom RULES membership community that serves as an ongoing and generative coaching and professional development resource for educators seeking ways to motivate their students and teach them the attitude of success. Andréa also provides programs for the urban community at large, including the newest addition, The Power Players Club™. Her dedication to the true transformation of her clients is what got her the name "The Butterfly Queen." Her workshops and tele-classes have proven themselves to be both dynamic in presentation, and thought provoking in nature. As a result of her need to influence her community and the unique quality of her work, Andréa has been invited to be part of various events, locally, nationally, and internationally.
Andréa is a graduate of Cornell University with a major in Human Development and minors in Africana Studies and Dance. Andréa is also a graduate of Long Island University-Brooklyn Campus with a Masters of Science in Elementary Education, and a graduate of the Institute for Professional Empowerment Coaching (iPEC).
Andréa uses her straight forward and friendly personality to make her clients feel comfortable, all the while urging them to take the control of their lives that they need to in order to reach their goals. Through personal experience and professionalism, Andréa not only teaches her clients about their own personal power, but also creates a genuine atmosphere for transformation.
The name "Kioni" is a Swahili name that means "the one who sees." Andréa adopted this name to express her clarity of thought as well as her clarity of purpose, as it pertains to her work with her clients and in her community.