Yes, I teach Kindergarten ONLINE!
By Alissa Smith
I will admit I am extremely proud of my school and I enjoy talking about it!
However, I've got to tackle this question once and for all.
.
.
Part 1: I teach kindergarten.  
Yep. And I absolutely LOVE it.  My concentration in college was Early Childhood and to me Kindergarten is the most magical place in the world.  We do not just play all day, but I do eat cookies for breakfast. They've changed my mindset and you're going to have to get over it.
Part 2: I teach kindergarten ONLINE.
I teach online.  My school is real.  It does work.  It is not for everyone.  We are Charter School.  Charter Schools are often misinterpreted, scary words to the public eye.  I will not speak for all Charter Schools, I will speak for mine and my point of view: We are not trying to take over the world or change all schools to virtual.  We are trying to offer an option to families.  We are a school of choice and people choose us because they need something that we offer that their traditional brick and mortar school does not offer.  We are also a public school so we cannot turn students away nor can we ignore educational laws and responsibilities.  I will just speak for myself: I hold myself just as accountable for my students' education and learning as I would at any other school.
How does my school work? 
Students learn at home with an adult in a situation very similar to homeschooling.  However, they have access to our online school website where they have lessons assigned, access to a licensed teacher and an entire school system.  Our students do not pay to attend our school–not even book rent.  In fact we send them everything they need to learn down to a bag of dirt if the curriculum lists it as a material.  All that we ask is that families have internet access–we are a virtual school after all.  Parents will then follow lesson guides or online lessons to teach students their assigned lessons for the day.
The good news is that I have a home office phone and an email set up for parents to contact me with questions or concerns.  As a teacher I also have several online sessions throughout the day where I get to work with the students and teach them directly.  Students do not sit at the computer all day-especially in kindergarten. YIKES!  We have sessions (times vary based on their ages) and then they can break up the day and their learning schedule based on their needs. As a teacher, I also have access to monitor the students learning and progress through the courses.  This allows me to help families that are struggling or behind.
Why is my school important? 
A hot word in education is differentiation.  When students work 1-on-1 with a parent at home it is just natural to meet the student's individual needs.  We also offer an entirely different model for students that are not reaching their potential in a traditional school.  We have students that are running from bullying and gangs, health issues that need a flexible schedule, Olympic athletes, students who are bored and need advanced curriculum, and many homeschool families that want the guidance and community of a school system. Again, we are not a perfect fit for everyone, but it has touched my heart and soul to know I have helped families in a unique way.
Education is not 'one size fits all.' I teach at a school centered around that and designed purposefully to offer another choice to
families. Giving families options is a wonderful thing.
I am blogging about tackling my first year completely online at CappiesCorner.weebly.com  
Abo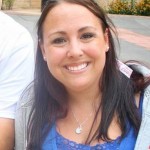 ut the author
Alissa Smith is a Virtual Kindergarten Teacher and Teacher Blogger who specializes in Early Childhood and runs on Diet Coke.
She has been teaching for over five years and is passionate about technology. Her online lessons often guest star her dog,  Cappie (background barker).
Alissa's blog is CappiesCorner.weebly.com