5 Ways to Bring the Common Core Shift into Your Classroom
By Aimee Barber
Tweet

The article describes overlying shifts in teaching with the Common Core State Standards and provides suggestions for implementing these shifts in the classroom.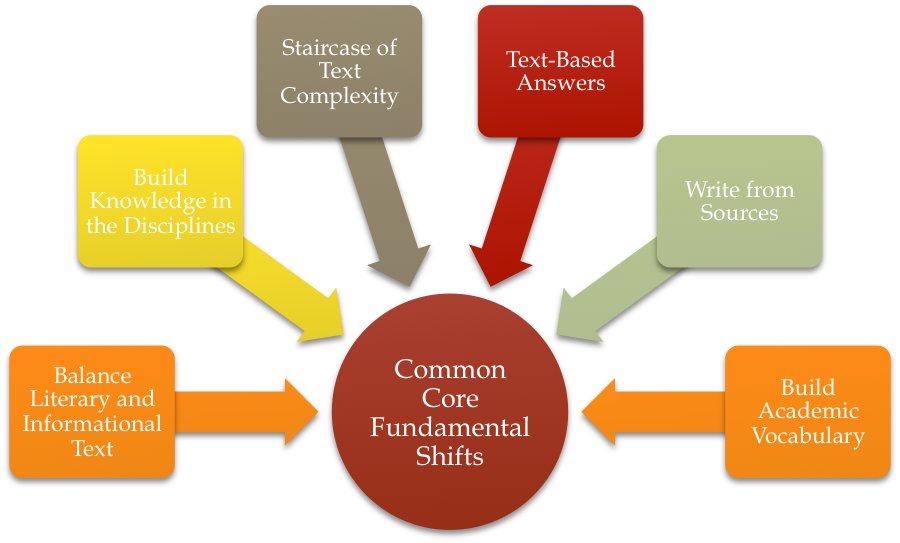 A variety of emotions have come along with the new Common Core State Standards.  Fear, anxiety, excitement, stress are just a few of the  feelings from parents, students, teachers, and administrators.  If we put away the negative views for just a moment to really examine the essence of the standards, we might begin to see how bringing a few strategies into our classrooms everyday will begin to naturally transform our thinking on education while giving our students a fresh breath of confidence and purpose.  What if these new standards could unleash the creativity of students and teachers, encourage deep thinking and sharing, and challenge each student and teacher to reach
her full potential?
The standards continuously bring up verbs from the higher levels of Bloom's Taxonomy.  In essence, we are spending less time asking our
students to recall fundamental facts and more time encouraging them to think deeply about topics, collaborate with peers, and create opinions, presentations and even new questions.  This is the shift.  It is a  shift from the conveyor belt style of one-size-fits-all, worksheet-
reliant schoolwork to learning as a vehicle to create, question, and discuss.  If we begin to view the standards as an overall shift in the way a classroom is run, strategies will begin to creep from the haze of confusion and bring forth a passion for what education is meant to be.
Strategies are always changing.  Many teachers are tired of being mandated to try new techniques and follow different guidelines.  But, if we look at the major shifts before unpacking individual standards and begin incorporating five strategies every day and for every student, the transformation will begin to occur naturally and across subject areas while setting the stage for what each standard asks us to teach.  Those five strategies are challenge, choice, creativity, collaboration, and critical thinking.
Challenge
Ask yourself every day, "Am I challenging EVERY student to rise up to a new level of understanding?"  This means challenging struggling learners, average learners, and above average learners to meet reasonable goals that take them a little bit further than where they were yesterday.  A differentiated classroom doesn't just do different things, it purposefully adjusts tasks to meet the needs of its learners.
Differentiation is flexibly grouping students based on a topic-specific pre-test, adjusting assignments for different levels of understanding, allowing choice in assignments or projects, and more.  For differentiation ideas, check out What Works for Differentiating Instruction in Elementary Schools by Grace Rubenstein or Differentiating Instruction: Meeting Students Where They Are by Jennipher Willoughby.  The challenge component of this shift in education asks us to look at our classrooms as places of growth for all  students; a place with no ceiling when it comes to learning.
Choice
Adults choose a career path.  We choose what to do with our free time.  Lots of unwanted "stuff" gets mixed in with things we want to do, but one thing is for sure: If we choose to do something because we are interested, we are likely more invested, more passionate, and the end result is more meaningful than if it is something in which we are not interested.  This shift potentially takes a research project from a dreaded report on an assigned topic to a wealth of knowledge actively sought out by students who had a spark of untapped interest inside. Throw in the opportunity to share that knowledge in their [continued on next page]