Seven Features of Highly Successful Picture Books
By Abby Connors
Tweet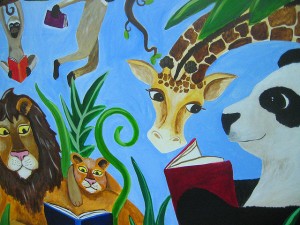 Ever wonder why some picture books hold young children's attention like a magnet, leading them to ask interesting questions and make meaningful comments, while others inspire blank stares and puzzled looks? I've been reading picture books to young children for about twenty years, and I have a long list of stories I've found to be sure-fire hits. But many times, I've brought in a story I thought was absolutely adorable, funny and interesting, only to have it fail the "real kid" test miserably. Some stories make excellent learning experiences, and some just don't. Here are some features I've found the "winners" have in common.
1. Repetition, repetition, repetition. Young children like to know what's coming. One or two surprises can be fun, but when a story's plot is too complicated and unpredictable, children tend to tune out. Children also enjoy saying repetitive words and phrases along with you, making them more engaged and focused. Some wonderful repetitive stories include:
"Mortimer" by Robert Munsch. Mortimer's mom, dad, and many others come upstairs to tell him to go to sleep, but every time each one leaves, the little boy sings the same silly, boisterous song. Young children listen carefully to know when to sing along.
"Stop That Pickle!" by Peter Armour. In this variation of "The Gingerbread Man," a runaway pickle attracts a crowd of pursuers, each of whom calls out, "Stop that pickle!" Children adore this silly and entertaining book.
"The Rickety Barn Show" by Jemma Beeke. One animal after another gets involved in putting on a show, only to find that they have no audience, because they're all in the show! The exchange "Show? What show?" – "The Rickety Barn Show!" is repeated many times, and each time the children join in with lots of giggles.
"The Doorbell Rang" by Pat Hutchins. This story is actually an early lesson in division – as more friends come over, two children need to share their cookies evenly – and the phrase "And just then, the doorbell rang!" is repeated often. I add the "Ding Dong!" sound for even more fun.
"The Cow Who Clucked" by Denise Fleming. The moo-less cow in this story goes around to each farm animal to try to get her moo back. But each time she meets an animal, it makes a different sound, and the cow exclaims, "It is not you who has my moo!" Spoiler alert: The chicken has it!
2. More, more, more. Cumulative stories are also repetitive, but add more and more characters, actions, or objects as the tale moves along. Often, more and more animals squeeze into a bed, tent, or other object; more and more objects are carried in a bag or suitcase; or more and more animals are asked to help solve a problem. In addition to the enjoyable predictability, these stories promote auditory memory, as the children try to remember all the previous animals or objects. I've had children respond enthusiastically to these cumulative stories:
 "Bearsie Bear" by Bernard Waber. How cold is it? It's so cold that one by one, all the animals in the forest want to stay over at Bearsie Bear's nice warm house for the night. Of course, everyone has a hilarious name like Piggy Pig or Goosie Goose. Young children always love this one.
"The Enormous Potato" by Aubrey Davis. In this version of an old Russian folktale, a farmer is unable to pull a potato out of the ground due to its, well, enormousness. His wife, his daughter, his dog, his cat, and his mouse come to help. Finally, the potato comes out when they all work together. (But many children think it's because the mouse is super strong!)
"When the Rooster Crowed" by Patricia Lillie. The rooster crows, but the tired farmer doesn't wake up until the horse, the cow and several other characters make some noise. This one's always a crowd-pleaser – children love to make noise and wake people up!
"Creak! Said the Bed" by Phyllis Root. It's a dark and stormy night, and one by one, Evie, Ivy. Mo, and the dog crawl into bed with Momma and Poppa. Phyllis Root always writes in an irresistible rhythmic style that draws children into her very funny stories, and this one is no exception.
"Where There's a Bear, There's Trouble" by Michael Catchpool. A bear follows a bee, and two geese follow the bear, and so on and so on. The illustrations are charming, and children are always curious to see what trouble the bear is going to get into!
3. Two pages are better than one. In illustrations, that is. A "two-page spread" (also known as a "double-page spread") is an illustration that covers two pages. One-page spreads, obviously, cover only one page, so that on the left-hand page of a book, a pig might be talking to a horse, and on the right-hand page, the same pig could be talking to a duck. This can be terribly confusing to young children, especially those under four. "Who's the other pig?" "Why are there two pigs?" "Is that the pig's mommy?" It not only makes it more difficult for children to understand the story, it interrupts the flow of your read-aloud session while you have to stop to explain the illustrations. The following very fun stories have two-page illustrations:
"Clip Clop" by Nicola Smee. This sweet, simple story describes a "horsey ride" given by a real horse to his animal friends. Like the animals at the end of the story, your students will shout, "Again!"
 "The Leopard's Drum" by Jessica Souhami. In this adaptation of an African folk tale, some animals try to steal the leopard's magnificent drum, but only the little turtle is clever enough to pull it off. The illustrations are two-paged and spectacular, with bright, clear colors.
"The Bear Came Over to My House" by Rick Walton. Set to the meter and rhyme scheme of "The Bear Went Over the Mountain," this silly story is sing-along-able and features charming illustrations by James Warhola.
"Chicken Chickens" by Valeri Gorbachev. Young children really relate to this story about two little chickens who are scared to go on the playground equipment. In the end, though, a kind beaver helps them go down the slide.
 "Looking for a Moose" by Phyllis Root. Yes, I'm a Phyllis Root fan. In this book, a moose-hunting adventure involves lots of rhythm and repetition, in addition to the very original illustrations.
4. Child-sized words. Have you noticed that many children's books sound like the author is writing for adults? I'm particularly annoyed by books that include words that are "winks" to grownups, like "Camembert" or "savior-faire." (Yes, these were both in a children's book I looked at recently.) A few interesting words to stretch their vocabulary a bit is fine, but not to the  point where you have to "translate" almost every line. Here are some children's books that have child-friendly prose:
"Huff and Puff" by Claudia Rueda. Instead of the traditional violent reprisal scene where the pigs trick the wolf into falling into boiling water, this extremely funny version of "The Three Little Pigs" ends with a sweet surprise.
"The Very Quiet Cricket" by Eric Carle. All of Carle's books are delightful and age-appropriate – this one is my favorite (maybe because teachers of young children need a little quiet sometimes!).
"Drip Drop" by Sarah Weeks. You'll find this one in the Easy Reader section at the library – I find that many easy-reader books have a nice simple vocabulary. A mouse struggles to find containers to catch the rain that leaks into his house. By the time the sun comes out, he's too tired to go out and play!
"A New House for Mouse" by Petr Horacek. Cleverly designed cutout illustrations enhance this tale of a mouse looking for a house that will be big enough for the giant apple he's found. He nibbles along the way, and by the end his old house is suddenly big enough!
"Hiccups for Elephant" by James Preller. Jungle animals come up with various ideas to help cure Elephant's hiccups. The mouse comes to the rescue! (It seems many of my favorite stories feature mice. How come they're so adorable in stories, and so not when you see one in your kitchen? )
5. Stories that make that children feel smart. I love to read books that have clueless characters who don't know something that's obvious to even a very young audience. Children love to feel smart – they laugh at the characters' obliviousness and sometimes even shout at the page, trying to knock some sense into the characters' heads! These ones are classics, or destined to be.
"Henny Penny" by Paul Galdone. Everyone knows that the sky can't fall down, except silly Henny Penny and her friends. An all-time favorite.
"We're Going on a Picnic" by Pat Hutchins. While searching for the perfect picnic spot, Chicken, Duck, and Goose don't notice that a squirrel and other small animals are stealing the food from their picnic basket. But your students will notice and point it out excitedly.
"Peanut Butter Rhino" by Vincent Andriani. Get ready for giggles, laughs and guffaws. Guess where Rhino misplaced his sandwich? Yup – he sat on it. Need I say more?                                         4. "Where's My Mom?" by Julia Donaldson. Due to a series of hilarious misunderstandings, a butterfly who's trying to help a little monkey find his mom keeps finding the wrong animals. Very cute illustrations make it even funnier.
"Are You a Horse?" by Andy Rash. Roy receives a saddle for his birthday and goes off to find a horse. Roy looks like a grownup, so it's kind of odd that he doesn't know what a horse is, but children find it very funny when he asks a snake, a crab, and other creatures "Are you a horse?" Again, young children love to feel smarter than Andy. This story also has a very silly surprise ending.
6. Plain pictures. Well, maybe not plain, but clear enough so that children don't have to ask, "Where's the puppy?"  or "What's that blue thing?" This happens surprisingly often. You'd think the term picture book kind of implies that the pictures are the heart of the book, but a lot of picture books have overly complicated or "artistic" illustrations that confuse young children. Large, simple, bright, child-friendly illustrations are a feature of these stories:
"Clarabella's Teeth" by An Vrombaut. The illustrations in this story are not only clear, they're absolutely charming. It takes Clarabella the crocodile so long to brush her teeth that she doesn't have any time to play with her friends. But a surprise gift solves the problem.
"The Three Bears" by Byron Barton. Actually all of Barton's books have delightfully simple and sweet pictures. I just love how cute Baby Bear is in his version of this familiar story.
"Big Wolf and Little Wolf" by Sharon Phillips Denslow. Cathie Felstead not only illustrates the wolves with bright, fresh simplicity, she also illustrates words like "Suddenly…" in this happy story about a warm and loving wolf family.
"Way Up High In a Tall Green Tree" by Jan Peck. A little girl's exploration of the rain forest and its fascinating creatures has bold, bright illustrations by Valeria Petrone.
"Cock-a-Doodle Quack! Quack!"  by Ivor Baddiel. This silly, sweet story about a confused little rooster features big, colorful illustrations by Ailie Busby. Children also love the  mixed-up crowing sounds.
7. They've got rhythm. The bouncy, sing-song quality of rhythmic texts really draws young children into a story. These books often have repetitive rhythmic refrains for children to chant with you. And when children are engaged in helping to tell the story, it increases their comprehension and auditory memory. And they're fun! Here are some of my favorite rhythmic stories:
"Tiny Little Fly" by Michael Rosen. "My, oh my, Tiny Little Fly!" starts this irresistibly rhythmic story about a fly who bothers various large jungle animals. Children will be chanting along with you before you know it.
"Farmyard Beat" by Lindsey Craig. The chicks can't sleep, 'cause they've got that beat! With infectious rhythmic refrains, the sheep, the cat, and other animals start dancing to the beat. Add some clapping or foot-stomping for more noisy fun!
"The Baby Beebee Bird" by Diane Redfield Massie. This is one of my students' favorites. The zoo animals can't get to sleep because of the new arrival, a baby beebee bird, who sings, "Bee-bee, bobby bobby, bee-bee, bobby bobby!" all night long. I sing this in a high funny voice and soon the whole class turns into baby beebee birds!
"Hobbledy-Clop" by Pat Brissom. Brendan goes to visit his grandma, joined by various animals along the way. Each time he resumes his journey, his little wagon goes "hobbledy-clop, hobbledy clop" over the bumpy road. Children can rock back and forth like they're riding a bumpy wagon while they repeat the chant.
"Trashy Town" by Andrea Zimmerman and David Clemesha. Children are fascinated by garbage trucks, and they love this story. Each time the garbage man throws more garbage in the truck, this rhythmic chant is repeated: "Dump it in, smash it down, all the way to Trashy Town!" There's also a cute, funny ending.
It's not always easy to find great picture books for your class, but looking for these seven features can help you discover stories your students will love and learn from!
Also by Abby Connors:
The Pinocchio Effect: 12 Ways to Make Read-Aloud Stories Come Alive
About the author
Abby Connors is an early-childhood music educator, author and presenter living in New Jersey. Her most recent book is The Musical Toddler (Whitmore Books, 2013).