Child-Centered STEAM: Three Ways to Encourage Inquiry and Creativity by Abby Connors
By Abby Connors
The STEAM approach – integrating the arts with the traditional STEM subjects of science, technology, engineering, and math –is gaining momentum in the educational community. The 2017 Horizon Report from the New Media Consortium and CoSN identifies STEAM as one of the major trends driving classroom tech in K-12. (Source: https://edtechmagazine.com/k12/article/2017/09/new-nmc-horizon-report-highlights-coding-steam-rising-tech-trends-year .) The demand for workers in STEM fields is rising steadily, yet these fields require more than technical knowledge – they depend on imagination and creativity. As Steve Jobs stated, "It's in Apple's DNA that technology alone is not enough—that it's technology married with liberal arts, married with the humanities, that yields us the result that makes our hearts sing."

The far-reaching goal of STEAM education may be to prepare students for 21st-century careers. But in the day-to-day life of the classroom, STEAM also works to power engagement, creative thinking and fun. (Don't forget about fun! Because children sure don't.)
You can find excellent STEAM-inspired activities for elementary classrooms all over social media and educational websites. I've seen everything from art projects using geometric shapes, to building strong new houses for the Three Little Pigs. These projects certainly sound more engaging than worksheets!
It's concerning, though, especially for younger learners, if all these activities are initiated and led by the teacher. The truest learning begins with inquiry, and the deepest, most lasting learning is child-centered and child-led. As Alison Gopnik, the psychologist and author, has stated, "Activities such as encouraging play… and asking for explanations prompt scientific thinking more effectively than direct instruction (Gopnik, 2012)" Current educational philosophies such as the Reggio Emilia approach emphasize that young children can lead, collaborate and assess learning experiences in very profound and complex ways.
Of course, I sometimes use activities I've found in educational resources, or those I've designed myself. But most of the experiences I design are inspired by my students' inquiry.
For example, we often improvise with maracas, or shakers, in my music classes. Many children were curious about what was inside the shakers – what was making that wonderful sound? (One boy even volunteered to smash one with a hammer so we could find out!) Following that line of inquiry, I brought in a number of clear plastic jars, the kind peanut butter and honey come in. As a group, we experimented with different "fillings," including acorns, plastic building bricks, paper clips, and rice. We shook the differently-filled jars and discovered that the different materials we used for "fillings" produced different sounds.
Another time, a kindergarten class was clapping to the beat of a song, when a couple of them began to clap in new ways, just for fun – clapping with arms held wide, clapping with only their thumbs, holding their arms out in front like flippers and "flapping" their hands together, and so on. Excited by their creativity, I suggested that we go around the circle and have everyone take a turn creating a new way to clap. Afterwards, we discussed how our hands were able to make sound in so many different ways, and learned about how our fingers, knuckles, wrists, and elbows are connected – how they can move together and independently in different directions, with different ranges of motion.
Here are three ways you can support child-centered STEAM in your classroom:
1. Watch and learn. Free play, whether inside or outside, is a golden opportunity for you to observe children "in the wild." What are they playing with, and how are they playing with it? Are they building and designing? Are they sorting, arranging, counting? Observing animals, leaves, flowers, and rocks? Often they'll do all of these things in the context of dramatic play or art-making. These are all STEAM activities. Don't take over, but show interest. Make observations, ask questions, and let children tell you about what they're doing.
2. Keep your ears open. What are children talking about during free play? Are they discussing how best to build a tower? Pointing out interesting bugs? (I once overheard a four-year-old girl tell her friend, "Butterflies are SO GOOD at FLYING!") Sometimes you'll hear lively arguments – "The moon goes away in the daytime!" – "No it doesn't, it just hides behind a cloud!" All of these can lead to STEAM projects.
3. Think big. How can children expand on their areas of interest and inquiry? Ask them about it. Maybe they'd like to build a "classroom city," helping each other build towers, schools, libraries, fire stations and other buildings, deciding on materials and street arrangements together. Or maybe they'd like to create a butterfly dance, collaborating on costumes and choreography, based on their observations of butterflies in flight. Encourage your students to find out more, share more, imagine more, create more.
Be open every day to letting children take charge of their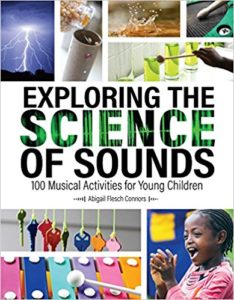 learning. Allow them to explore new ways of expressing their understanding of all subject areas through the arts. And prepare to be amazed.
About the Author
Abby Connors is an early childhood music teacher, writer, and presenter. Her most recent book is "Exploring the Science of Sound: 100 Musical Activities for Young Children" (Gryphon House, 2017).