The Importance of Assertiveness in Teachers
By Robert Rose
Dr. Robert Rose on his discussion with Dr. Howard Seeman on Rose's weekly Blog Talk Radio program, Rewiring Your Brain. Dr. Seeman is author of Preventing Classroom Discipline Problems
—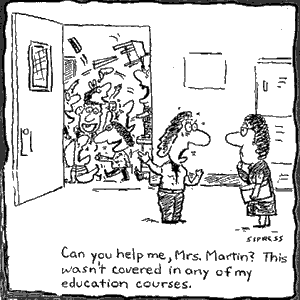 This is from a dialogue with Dr.Howard Seeman, Professor Emertis in Education as we explored our belief in the importance of assertiveness in teachers, but most points apply to anyone.
First, don't confuse assertiveness with aggression. Assertiveness is standing up for what you believe in. It usually is helping others as well as yourself. Aggressiveness deals with expressing frustration, anger, or fear in manner that often hurts others – and yourself. I will use teachers, but most of these applies to anyone. These come from Howard's newest revision of his classic, Preventing Classroom Discipline Problems.
Guilt from other areas! When you aren't doing what you believe is best for students, then you will (or should) feel guilty. If you know that teaching to the standardized test is a waste of time and destructive to your ability to teach what is important, then you may have a nagging feeling of guilt. When you know they should have time to have art, music, drama, physical education, and science, but can't work it in because the emphasis is on the basics, you know you're cheating them. This compromises your ability to effectively teach.
Conflicting Feelings! I call this the introjective principal. You see him as your "boss," not as a colleague. He may send that message. As you teach you think about what he would think if he came in and "caught" you doing something he thinks is bad or ineffective teaching. Since teaching is an art as well as a science, each teacher must find her own style that fits her beliefs and abilities. It means being able to quickly and confidently make hundreds of decisions each day. You can't do that when you're trying to guess, to read your principal's mind. Trying to do so cripples your ability to quickly be flexible to meet immediate problems and keeps you off balance and – stressed. You feel frustration and anger, but your fear is greater. It's one reason the sweets in the staff room are always there – for comfort.
Fear of other's anger! With your boss you fear that if you upset him, he'll fire you. It is possible in some areas, but in most cases what happens is the constant harassment that makes you feel like a bad child. You exaggerate his power with your fearful belief. If he's correct and you're not doing your job, then start doing it. If he's petty or wrong, then you need to counter with proof. I had papers from parents that complimented me on how much I had helped their child, the class, and them. I had my pupil progress profile that demonstrated where each child was – at that time and in the past. I documented what I did with any discipline problem – and I wrote down every negative contact I had with a principal. I still had occasional conflicts, but I was prepared. I didn't put up with being bullied. You don't have to be afraid.
Fear of your own anger! You feel like a pressure cooker without a release valve. You're probably acting more like a teapot and the steam whistles out in little spurts against all those who are weaker than you. You may take it out on your partner in ways that are undermining your relationship. Dr.Seeman stated most angry outbursts last about 2-3 minutes. When the steam is out, the reactions you get are not as bad as you conjured up. However, if you are like a pressure cooker and you keep storing and storing and storing, you may say or do something you regret. Anger when you have been hurt in any way is justified, even healthy. The trick is to direct it at the appropriate person in as an appropriate way as possible by a documented counter attack.
You have a low ego! Not to beat a dead horse, but keep a daily journal of all the day's successes. I have my student teachers use their diary as a means to pat themselves on the back as well as analyze any problems that occurred. When you feel down, reread these and you'll get your mojo back.
You need the class to like you! If you're competent, most students will like you. However, you need adults to like you. Make friends with colleagues who share your values and with whom you can confide in and will stand with you in difficult situations.
I didn't do this and I did suffer alone, but part of it was that my ideas were so different from my colleagues and I scared them.
You identify with the students! It's one thing to understand and have compassion for some of the things students are forced to endure, but if you (like so many of us did during the 60's) then excuse every anti-school and anti-social behavior, you are not preparing them to face life, but to do as you do – accept bad behavior as normal (for them). It's difficult, even scary to (after due process and proving he's guilty) to follow through with just consequences. It takes courage to do the right thing – for you as well as the student.
These ideas are a small part of Seeman's excellent book. His total efforts are to help teachers be prepared, to be proactive, and to head off problems before they surface or to dilute their intensity if they surface. Good advice for anyone!
Listen to the discussion with Dr. Seeman: http://www.blogtalkradio.com/icdrrose/2011/07/05/drhoward-seeman-the-person-inside-the-teacher
———————-

About Dr. Robert Rose
Dr.Rose has taught every grade in four major school districts in So.California. He has been successful using an eclectic and complex approach derived from solid research in the sciences. His web sites imaginativecurriculum.com and YouTube.com/icdrrose videos are filled with his books, workbooks, and videos that challenge the status quo.
He has attempted to teach based on the Constitution and mutual respect and it has worked. For forty-five years in a yours, mine, and ours marriage, he enjoys a family that is demonstratively affectionate and loving. His latest book, Abuses of Power in Education; Challenging Practically Everything, Outskirts Press, 2008, is one of the main sources for the ideas he will be explaining in his blogs. He believes that students, teachers, parents, and administrators need legal power and protection to be able to have the freedom to do their job most effectively. No person or group should have unlimited power and that's why balance is as important as autonomy.
Dr. Rose presents an audio program on Blog Talk Radio called Rewiring the Brain.