Prophecies for the New Year
By Bill Page
Seven prophecies, 15 fresh-start ideas, 21 thoughts and lots more for a new semester

Long ago I learned the futility of making New Year resolutions, but I am pleased to proffer some pretty certain classroom prophesies for the 2012, "back-to-school," new, calendar year.
I Prophesy That:
A. Problem learners of last semester will not, this semester, improve their behavior, their desire to learn, or their study habits much less have a miraculous reversal or change in attitude.
B. Having spent the first term establishing relationships with kids in their classes, teachers will continue having an even greater struggle with the same at-risk kids this new term.
C. Any changes in the district level policies, standardized testing demands, state and federal laws, school budgets, or school procedures will be for the worse, not for improvement.
D. Having "studied" their teachers' behavior for a half year, kids know teachers' values, attitude, habits, expectations, modus operandi, and idiosyncrasies. Relationships are entrenched; kids know teachers' aspirations and exasperations.
E. Teachers most reasonable choices, now, are to continue kids' lame-duck tenure down the slippery slope to year-end failure. Or, take action to create an inviting new semester with a refreshing restart instead of a continuation with predictable results.
F. Students, who failed to learn, caused trouble, lived up to their bad reputation, and know how to press teachers' buttons will be back with a vengeance for four and a half months.
G. And the "Beat Goes On!" You may be primed for a fresh, new, restart, but the reluctant learners will continue their downward spiral with new flourish.
A Fresh, Hopeful, New Start
Behind these realistic but pessimistic prophesies lurks the potential for a fresh, hopeful, new re-start. The kids don't know how to change the dire circumstances they're in and are probably more comfortable in the established relationship, no matter how unproductive,destructive, or troublesome. But, teachers can change teaching procedures, classroom conditions, and provide strategies, possibilities, and bold new ideas. Here are some attention-getting suggestions for moving toward a reprieve and a practical chance for success for everyone:
A. Now that kids know everyone, they can begin the first class with a meeting to discuss ways to make the coming semester better for learning and for new rules and procedures. You can plan future meetings to discuss making classes more enjoyable and profitable.
B. Start off the new semester with a new room arrangement, seating arrangements, and fresh decorations as an indication of a fresh start. Let the kids help. When they are involved at the start they stay involved.
C. Make sure the kids understand your concerns and intentions. They have to know why you are offering a new start, and they have to know reasons for learning and the importance of their participation in helping solve some of the learning impediments.
D. Permit an "incomplete" in lieu of the F for last semester, or a suspension of the first semester grade until May with the second semester grade applying retroactively to the first semester. For kids with a history of failure you have to keep options and possibilities open—for example permit independent study so that the students can "go back" to specific course content, if you know they can't keep up at this point in the course study. You have nothing to lose by grading retroactively except their bad attitude.
E. Declare a moratorium on tests and grades, by designating the first few weeks of the new semester a time for review, catch-up time, and fresh start. Tests will be for practice, diagnosis, and personal use only. No grades will be given or recorded for five weeks.
F. Use partnering or Pair-Share work. It's a beautiful way to provide feedback, application, and interest. It is the single best strategy for involving at-risk kids. Google Pair-Share for hundreds of ideas and uses.
G. Introduce the use of portfolios for students to keep track of their activities during this period of time and as the basis for a mini-conference with you and those who need and want special help. Make their use optional but interact with the at-risk kids in ways that use the material in the portfolio for review, diagnosis, and their best work, only.
H. Offer grades for special activities such as a keeping a journal, a review process, projects, exhibits, surveys, interviews. tape recorded work, pair-share and cooperative work. Try not to worry about course content. Break work into smaller segments so that grades and success comes more often. Nothing succeeds like success, which is more important than an F in content s/he is not ready for and has already flunked.
I. Don't beat them over the head with their weakness. If you and they know they can't read well, or write a decent sentence, or spell, or understand fractions, and so forth, acknowledge the weakness and establish appropriate compensation or interim standards for reasons and time for learning, not avoiding learning.
J. From a position of establishing a caring relationship, working toward a better attitude toward the subject, learning, potential, and eventual success; teachers can begin a turn around. The objective is to get the kid responding to "anything" as a possible starter.
K. It is far better to start the at-risk kids heading up the road toward learning than it is to keep giving them F's because they are not where you expect them to be.
L. "Whatever it takes!" If you can get five months of learning in this new semester, at any level—even last semesters' work, that would be far better than offering predestined F's and zero learning on material they won't or can't do anyway,
M. The correct reply to colleagues or administrators who object to a kid doing and getting grades on second grade place value instead of doing the algebra to which s/he has been assigned is, "S/he is doing algebra—that is a crucial part (however rudimentary) of the sequence required as s/he learns algebra.
N. Get kids to read newspapers and readers digests. Allow them to turn in poorly written papers, and math papers with one problem done correctly is better than to not turn in anything because of the prospect of getting an F.
O. Let kids suggest things they want to review or practice. Form study groups around review topics. Propose a diagnostic unit on "checking your learning and remembering". Let kids make up practice worksheets for their own use and offer your help for small groups. Give them plenty of time for review; it will pay off in the long run.
Additional Considerations and Thoughts on a New Start
For a fresh start and renewed attitude for students who are behind and below "our desired achievement level," teachers might consider the following thoughts and considerations:
* Begin with each student's identity—how s/he sees him/herself, e.g. as a loser, a poor-reader, or too far behind, not according to his/her "academic or remedialneeds."
*Teach students to appreciate and utilize student self-reflection techniques (with your help, of course). Self-reflection is crucial to needed change or improvement.
*Teach test taking techniques, and "learning to the test" techniques.
Teach task analysis of test questions and tasks; teach the skills of making up test questions as a basis for understanding tests.
*Judge kids by their "personal best" achievement gains, not by competitive scores.Teach them to diagnose and remediate themselves.
*Teach kids to distinguish and recognize differences between the intellectual and affective domains in themselves as well as others.
*Develop an understanding of "attitude" and its role and meaning in relationships.
*Offer experience in successful, rigorous, academic terms; nothing phony.
Needs to see a direct connection between anything on which kids are working and the goal. It must be in terms meaningful to the kids.
*Teach kids to see failure and profiting from mistakes as essential parts of learning, not as a determination of worth or ability.
*Teach study skills and ways to adapt and apply them to their own needs and use them as efficient learning techniques, and learning skills.
*Teach kids to receive, use, and profit from feedback of all kinds. Teach them to solicit feedback for themselves.
*Teach the role of non-verbal elements in communication and interaction
*Provide alternatives to class participation for kids who don't, can't or won't participate. For instance, an independent project or study time that can be done during class by going to a special place in the room.
*Provide a clear understanding of the expectations and goals for other people and accept them as individuals.
*Provide opportunities for students to see a direct relationship, in terms meaningful to them, between learning goals, teacher prescribed learning procedures and assessments, and prescribed procedures for themselves.
*Provide opportunities for understanding that false progress such as cheating, in any of its forms, is detrimental to them in learning and for future progress and use of learned material applied to new material to be learned.
*Teach awareness and value of their associations and to utilize partnerships, identities, and groups as resources for learning.
*Teach students to have their own definition of learning and know its primary components, including application, practice, repetition, reinforcement, retention,
*Teach "memory" as a component of learning and know the methods of memorizing and its relation to long-term and short-term retention and recall. A good memory can be studied and improved.
*Kids learn more from "Do-overs" than they do from low grades. They need to learn the material not get graded.
Some Things to Think About
The primary motivation of students' troublesome class behavior is escape from pain of embarrassment, and painful situations caused by mandatory, inappropriate, classroom assignments. Students will always seek success and avoid pain if they see those factors as being possible from their perspective.
When teachers become locked in a conflict cycle with kids, they are not responding to the pain and needs of the young person. Instead they are reacting out of their own needs, anger, fear and frustration, and they react by exchanging pain for pain—a useless, detrimental exercise.
Educational programs for troubled youth, most often, offer little more than curriculum of control
Bored students are assumed to have an attention deficit when a curriculum deficit disorder may be more accurate. Pain permeates emotion, thinking, and behavior. To be effective, teachers must override natural instinct to force kids into painful, embarrassing learning content.
The day you forget that under some life circumstances you could have ended up like your most troubled students is the day you should quit. You will have lost your ability to respond with empathy. Spend some time in the kids' moccasins. Feel their pain and embarrassment. Feel their hopelessness. Understand their defeatist attitude. Students cannot change their feelings, but teachers can if they recognize the basis of the feelings.
Since problem behavior is pain based, it make more sense to provide children with what they need—what we ourselves would want in their own shoes—rather than returning pain for pain. For example, would you punish a child for crying because he is hungry or refuse to feed him/her because you believe the hunger will go away if ignored? Give them what they need.
When students, who have been deprived of belonging or acceptance, act out negatively in class groups, we react by separating him further and punishing the child through isolation. Through prestige, role reversal, or reflection they can learn how to function in a class setting. But, they have to be taught, not rejected.
"I am only one, but still I am one.
I cannot do everything, but still I can do something;
And because I cannot do everything,
I will not refuse to do the something that I can do."
Edward Everett Hale
With Joy in Sharing, Bill Page
I welcome comments and questions,mailto:billpage@bellsouth.net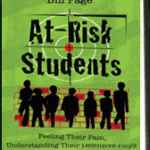 Information on
At-Risk Students: Feeling Their Pain, Understanding Their Plight and
Accepting Their Defensive Ploys
by Bill Page is available at